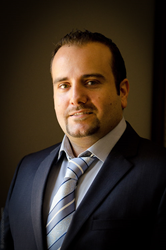 "We are excited to work with such a bold visionary who has leveraged his success to give back to the community and inspire others," says Ola Danilina, CEO and founder of PMBC Group.
Los Angeles, Calif. (PRWEB) July 28, 2014
Los Angeles technology public relations firm PMBC Group is pleased to announce a client relationship with Vincent Mehdizadeh, author, philanthropist and nationally recognized leader within the alternative medicine and prescription dispensing industry. Mehdizadeh is the founder and senior strategist of Medbox, Inc. (OTCQB: MDBX), a company that features patented systems that help pharmacies, marijuana dispensaries and hospitals track and control how sensitive medications are dispensed.
PMBC Group will be responsible for Mehdizadeh's publicity initiatives, including his partnerships with charitable organizations and the release of his forthcoming autobiography.
"We are excited to work with such a bold visionary who has leveraged his success to give back to the community and inspire others," says Ola Danilina, CEO and founder of PMBC Group. "We are proud to tell Vincent Mehdizadeh's inspirational story of how he triumphed over adversity and became a leader in his industry and an inspiration to future entrepreneurs as well as those who have faced personal challenges in life."
Medbox is on the forefront of setting an industry standard for transparency and accountability through technology, for which Mehdizadeh developed two approved patents for systems that track marijuana from seed-to-sale through a biometric chain of custody monitoring platform. Mehdizadeh's groundbreaking innovation has led him to become the first billionaire connected to the legal marijuana trade.
Mehdizadeh has completed authoring a book detailing his life journey and how the patent he received in 2010 for the dispensing machine gave him a new lease on life. He also announced signing a publishing deal that would bring the book to the public in January of 2015, with all proceeds going to charity.
In this book, Mehdizadeh writes, "As an entrepreneur, you constantly need to believe in yourself and strive to prove others wrong. Personal and business success has allowed me to be able to give back through donating to a variety of charities as well as being a constant motivator for others to succeed."
About PMBC Group
PMBC Group is a fast-growing public relations agency based in Los Angeles, with offices in Beverly Hills. PMBC is dedicated to delivering tactical, results-driven public relations campaigns that build brand value and advance immediate and long-term business goals. PMBCs success-proven formulas are designed to navigate the modern media landscape utilizing a collaboration of new and traditional media to achieve strategic media exposure to reach key consumer audiences, industry influencers, investors and other constituents that matter to our clients. PMBC is comprised of a team of professionals of varied backgrounds from public relations, journalism, social media, merchandising, product development, venture capital, entertainment and hospitality. For more information please visit PMBCgroup.com.
About Medbox Inc.
Medbox (http://www.thedispensingsolution.com/) is the leading dispensary infrastructure and licensing specialist, patented technology provider, and partner to the cannabis industry. Headquartered in Los Angeles, CA, Medbox, through its wholly owned subsidiary, Medicine Dispensing Systems, offers its patented systems, software and consulting services to pharmacies, alternative medicine dispensaries and local governments in the U.S. In addition, through its wholly owned subsidiary, Vaporfection International, Inc., the company offers an industry award winning medical vaporizer product. Medbox, through its newly established subsidiaries, is in development of the following ancillary services tailored to the alternative medicine industry: merchant services and armored transport for cash deposits, cannabidiol research and development, real estate acquisitions and subsequent lease programs to alternative medicine dispensaries, and alternative medicine dispensary management services.
For more information on Medbox, please call (800) 762-1452.