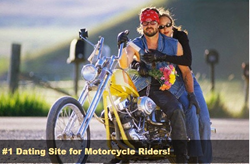 Los Angeles, California (PRWEB) July 30, 2014
An interesting fact about motorcyclists was recently revealed by an online dating community where motorcycle enthusiasts congregate, BikerKiss.com. The number and ratio of women members on the site that were revealed by BikerKiss indicate that women motorcycle riders have been in a rapid increase in the past 3 years.
Members on BikerKiss are mostly single bikers in the US, UK, Canada, Australia and some other European countries who are there looking for friendship or relationship with similar-minded people. Up till August 2014, the total number of members on the site has reached 580,000, over 200,000 of them being female.
"There are stereotypes about women on bikes. They are said to be somewhat outdated," said Brian, BikerKiss marketing department manager, "That's not true. Some people probably don't have a clear idea how women bikers act these days. Women bikers have become an indispensable part of the motorcycle community."
According to the statistics BikerKiss provided, since 2011, the number of women motorcyclists on BikerKiss has increased 67 percent, and the number of women who own a motorcycle has increased 37 percent. And this trend is on the upswing. Now one out of three members on this biker dating site is female.
About BikerKiss:
BikerKiss.com is world's first, largest and most effective biker dating site for biker singles who are looking to meet other biker friends. It is a best place for bikers and friends to get to know each other, establish relationship and talk about their interests, or to help each other.