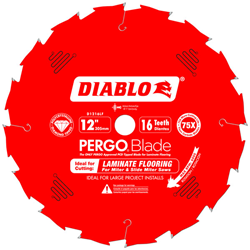 With an unparalleled 75 times cutting life performance, you have to see this blade in action to believe its speed and accuracy!
High Point, NC (PRWEB) July 28, 2014
Freud America, Inc., a premier manufacturer of superior cutting tools, is introducing the first saw blades specifically designed for cutting laminate flooring in a miter saw chop application; yet delivers fantastic results in a slide or table saw. The new, high-performance Diablo Pergo® Blades are specially designed for cutting the abrasive material found in Pergo laminate flooring and deliver an unmatched 75x cutting performance versus carbide flooring saw blades. These blades are ideal for cutting laminate flooring, hardwood flooring, engineered flooring, bamboo and wood on any table, miter or slide miter saw.
Prior to the introduction of these new Diablo brand blades, only carbide-tipped blades have been available as a flooring cutting solution when using a miter or table saw. The challenge with using carbide-tipped blades is they dull and wear out quickly due to the abrasive nature of laminate flooring. These new Diablo Pergo® Blades feature Polycrystalline Diamond (PCD) tipped teeth with unique geometry to slice through the abrasive material and provide a superior quality finish for a ready to install edge; even in a chop application. This radical new design delivers an unprecedented 75 times cutting performance, translating to a savings of approximately $5,000 when comparing the cost and life of a carbide-tipped blade.
"These new blades are a game-changer in the flooring market. It is the most critical tool for a professional contractor to use when completing a flooring project," said Russell Kohl President & CEO of Freud America, Inc. "Pro installers no longer have to worry about what to do with the hundreds of dulled, unusable blades left over from a flooring project. With an unparalleled 75 times cutting life performance, you have to see this blade in action to believe its speed and accuracy!"
To see the new Diablo Pergo® Blades in action, visit Diablo's website at http://www.DiabloTools.com/Pergoblade.
The new Diablo Blades feature:

Polycrystalline Diamond (PCD) tipped teeth with unique tooth geometry to deliver unmatched cutting life
Triple Chip Grind (TCG) tooth geometry for dramatically increased cutting life
Hi-Tech Anti-Kickback design reinforces the tooth for longer life
Laser-Cut Anti-Vibration design reduces vibration and stabilizes the blade for smooth, effortless cuts
Perma-SHIELD® non-stick coating to combat drag, gumming and corrosion
New Diablo Pergo® Blade Specifications:
12" Blade, Model D1216LF, 16 PCD Teeth, 1" Arbor, .087" Kerf
10" Blade, Model D1012LF, 12 PCD Teeth, 5/8" Arbor, .087" Kerf
7-1/4" Blade, Model D0708LF, 8 PCD Teeth, 5/8" Arbor, .071" Kerf; available Fall 2014
Pergo® is a registered trademark of Unilin North America LLC and is used under license.
About Diablo
Diablo is the premium brand of contractor tools specifically designed to provide superior performance while withstanding the most extreme conditions for the contractor. Diablo is produced by Freud America, Inc, a manufacturer of high quality woodworking tools for the last 60 years and a leader in the carbide cutting tool industry. Freud is the only manufacturer of woodworking tools in the world that produces its own MicroGrain Carbide with Titanium, called TiCo™ Hi-Density carbide. By producing our own carbide, we have the unique ability to formulate each tool for each specific application; thereby maximizing the cutting life and performance of the tool and ultimately saving the professional contractor time and money. Diablo's full line of high-quality cutting tools includes saw blades, reciprocating saw blades, bonded and coated abrasives, and router bits. For more information, visit http://www.diablotools.com. You can also follow Diablo on Facebook (http://www.facebook.com/diablotools), or view product and demonstration videos on our YouTube channel (http://www.youtube.com/diablotools).