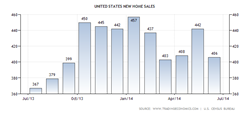 the larger disappointment was the downward revision of sales for May
Chicago, IL (PRWEB) July 26, 2014
Lenders like Peoples Home Equity were very disappointed to see Thursday's new home sales report from the U.S. Census Burceau. Not only did the new home sales decline for June but they were also revised lower for May.
New home sales for June declined -8.14% month-over-month which was the largest decline of the year. Sales also declined -11.5% year-over-year. Median home price were reported as $273,500 for June which average sale prices were calculated at $331,400. Seasonally adjusted the calculated inventory of new homes for sale were 197,000 which is supply good enough for 5.8 months.
Perhaps the larger disappointment was the downward revision of sales for May. Lenders and homeowners alike were under the impression that new home sales were at a 6 year high at 504,000 for May. Instead sales were revised -12.3% lower at 442,000 which is only the 2nd highest number of sales for 2014, below that of January at 457,000.
According to TradingEconomics.com, "sales in the Northeast dropped 20 percent from May and those in the South fell 9.5 percent. Sales in the Midwest contracted 8.2 percent and those in the West declined 1.9 percent." Peoples Home Equity was quite surprise by this report given the numerous strong weekly home sale reports from DQnews.com. This discrepancy in data is due to the small representation new home sales have relative to used home sales. The new home sale market is much smaller than the existing home sale market.
Existing home sale inventory tends to increase when homeowners purchase a new home since they no longer need their old home. The decline in new home sales is disappointing since it implies a slowdown or decline of existing home inventory.
Contact a Peoples Home Equity loan officer today at: 262-563-4026.