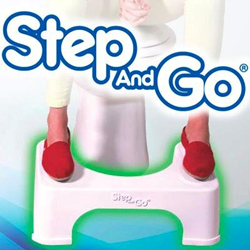 "This innovative and discrete step puts the body in the proper squatting posture and aligns the colon for less straining and a healthier, more complete elimination."
LOS ANGELES, CA. (PRWEB) July 30, 2014
Step And Go® , the simple solution for better health and overall comfort, has launched its new step stool precisely designed to mimic the posture and efficiency of natural squatting while using the modern-day toilet for about $20 bucks ($22.95).
"This innovative and discrete step puts the body in the proper squatting posture and aligns the colon for less straining and a healthier, more complete elimination," says Step And Go CEO, Bud Lavassani. "When done, the Step And Go slides conveniently under the toilet bowl, blends into your home décor, and is ready to go the next time you are."
Recently featured with The Los Angeles Times, the Step And Go has also been endorsed by colon care hydrotherapists including Internal Cleansing Specialist and Health Educator, Tara Adler. According to Adler, "when you sit normally, you're holding the anorectal and puborectalis channels together, which is to a person's detriment, so squatting is the most effective way to fully eliminate. Unfortunately, achieving that position can be quite challenging with the modern-day toilet."
Step And Go is working to help people see past common stigmas and engage in open conversation about digestive health topics such as Colon Cancer prevention, hemorrhoids, and the most common functional gastrointestinal problem, Irritable Bowel Syndrome, which, according to the International Foundation for Functional Gastrointestinal Disorders, currently affects 10-15% of the United States
Step And Go benefits include:

Healthier elimination - The Step And Go assists users in aligning the rectum with the digestive tract for a more thorough and complete elimination. It also reduces the risk of bowel herniation and other damage to the lower digestive tract.
Increased energy - The modern toilet puts the body in a sitting position, which is far from ideal for proper elimination. This angle causes a kink in the colon and makes elimination more difficult and less productive. It leaves unwanted body waste and toxins behind, causing the user to feel sluggish and weighed down. Step And Go users get a complete elimination and feel lighter with more energy - every time!
Relief from constipation - Since the human body is naturally inclined to squat in order to achieve complete elimination, the Step And Go ensures the user is in the correct posture for full relief every time, reducing the need for laxatives to be comfortable.
Relief from hemorrhoids - By allowing a proper squatting posture, the Step And Go also helps to eliminate straining and decreases the pressure on the anal and rectal veins, helping to prevent hemorrhoids.
Convenient design - The Step And Go fits perfectly under most toilets, and slides out of the way after each use. It also features a carefully designed slanted platform for more comfort and better efficiency.
High quality - The Step And Go is strong, stable, and built to last. It is also the most affordable product of its kind on the market today.
Step And Go's original stool is now available at stepandgo.com as well as Amazon and sells for $22.95. There is also an environmentally friendly, premium option made from Bamboo for $69.95.
For more information, please visit http://www.stepandgo.com and follow Step And Go on Facebook and Twitter.
MEDIA CONTACT:
AJ Feuerman
afeuerman(at)451marketing(dot)com
(323) 406-8560