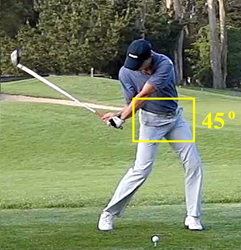 Releasing microfibers and training on the Somax Power Hip Trainer enabled this golfer to increase his average drive from 290 to 350.
Tiburon, CA (PRWEB) July 28, 2014
Somax Performance Institute has openings for two performance specialists.
The positions include 4 years of training in the Somax proprietary form of sports motion analysis with frame-by-frame videotape, Microfiber Reduction to improve flexibility far beyond what stretching alone can do, and Stress and Tension Reduction.
Clients who have completed Somax 1-4 week programs have won 44 Gold Medals, set 11 World Records, cut a minute per mile off their running pace, won the US Open (golf), went from #113 to #1 in putting average on the men's tour, quadrupled their tour income, increased their longest drive from 295 to 400, increased their long ball from 400 to 480 feet, reversed the stiffness that comes with age and rid themselves of chronic back, neck, knee, shoulder and elbow pain. Somax sports analysis videos have over 2.5 million views on YouTube.
Duties include working with individual clients, teaching swim and golf camps, marketing services, demonstrating Somax products, and general office work.
Salary for the initial four years is $40,000/year plus contribution to medical insurance. There is a potential year-end bonus of $7,000 for exceptional work.
At successful completion of the four-year training program, applicants will be eligible for employment at Somax Performance Institute at a salary of $75,000 a year, plus medical benefits.
Applicants should be able to demonstrate an interest in sports and health, have strong analytical, communication and research skills, enjoy working with people, and enjoy working with their hands. Background in competitive sports is not required.
Paste chronological resume into body of email response. No attachments, please. Three telephone references for past employers, clients or instructors. Position starts ASAP.