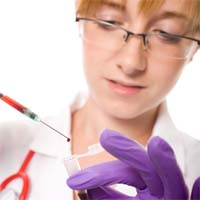 Multivariate analysis indicated that pretreatment albumin was an independent prognostic factor in MPM.
Raleigh, NC (PRWEB) July 30, 2014
Chinese researchers say a protein that makes up about 60% of protein mass in blood plasma can be used as a prognostic indicator in people on chemotherapy for malignant pleural mesothelioma. Click here to read the full article on the study, just posted on the Surviving Mesothelioma website.
Scientists in the Department of Respiratory Medicine at Shandong University Hospital in China analyzed the albumin levels of 97 newly diagnosed mesothelioma patients between 1995 and 2013. They found that, the lower the albumin level, the shorter the survival.
"The 1-year overall survival rate was 44.1 % for patients with hypoalbuminaemia [abnormally low albumin] and 72.0 % for patients with a normal albumin level," reports lead author Dr. Zhou-Hong Yao.
The study, published in Tumour Biology, found that the odds of dying from mesothelioma decreased by 9.8% for each 1 g/l decrease in albumin.
"Unlike some other prognostic tests for mesothelioma, a serum albumin test is easy and inexpensive," observes Alex Strauss, Managing Editor of Surviving Mesothelioma. "This study has the potential to help simplify the process of predicting treatment response."
To learn more about albumin and its potential significance for mesothelioma patients, see Albumin Levels May Help Predict Mesothelioma Survival, now available on the Surviving Mesothelioma website.
Yao, ZH et al, "Serum albumin as a significant prognostic factor in patients with malignant pleural mesothelioma", Tumour Biology, July 2014, Volume 35, issue 7, pp. 6839-6845, http://link.springer.com/article/10.1007%2Fs13277-014-1938-5
For nearly ten years, Surviving Mesothelioma has brought readers the most important and ground-breaking news on the causes, diagnosis and treatment of mesothelioma. All Surviving Mesothelioma news is gathered and reported directly from the peer-reviewed medical literature. Written for patients and their loved ones, Surviving Mesothelioma news helps families make more informed decisions.