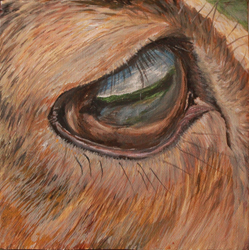 Universe is in the smallest being, one just needs an eye to look at it.
Cupertino, CA (PRWEB) July 30, 2014
Sujata Tibrewala's tiny art pieces, which fit a universe in them, are on display at Parallax Art Fair, which opened to a grand opening crowd on July 26th.
Sujata Tibrewala is an ecofeminist artist who believes in the oneness and connectedness of the whole universe. Coming from eastern philosophy she had heard enough about this connectedness, but it was all meaningless until some time ago. It was when she personally experienced the connection with Mother Nature, fellow humans and the creatures in her backyard, in the deepest sense of the word, that she understood the true universality of everything there is.
She was like any busy IT professional in the "Silicon Valley" of India working with MNCs like CISCO and LSI (then Agere). It was as a medical condition that gave her the time to slow down and ponder about the state of the world she lived in. She started to notice the plastic fumes coming out of burnt garbage, the debris choking the nearby lake and the general apathy, which invaded everyone's lives. As if rudely awakened from slumber she awoke to the deep effects human actions were creating on mother earth, the only planet we have.
She decided to do something about it, and started working with local NGOs and residents, and used her art to spread awareness. The collective body fought with the civic authorities to streamline garbage collection. They were able to also restore the pristine lake and the lush greens around it.
However the actual relation of the human body with nature only became apparent to her when she learnt how to treat her medical conditions on her own. She did this by correcting the imbalances created in her body through diet, exercise and spirituality. Today she is a Vegan, Yogi, and Artist. She uses her weekends to go on long treks to explore the numerous hills of Bay Area. "These Treks keep me grounded, remind me how humble I am compared to the vast expanse of nature. I realize how fragile and mutable my body is. I get a chance to "talk" directly to nature and be thankful for the bounty she has created for us to live in. It makes me a better person and artist since it is as if I get to visit my roots every weekend. "
This deep connection with nature is indeed apparent in these new set of paintings on display in London.