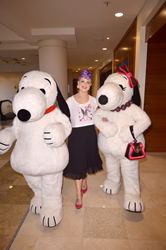 I've always been a Snoopy fan, and Belle was always my favorite character. I'm all about Belle. Team Belle.
San Diego, CA (PRWEB) July 26, 2014
Bossy big sister and pesky little brother. Harassed older brother and attitudinal little sister. Philosophical beagle brother and style-savvy beagle sister. Sibling relationships run the gamut in Charles Schulz's beloved comic strip, "Peanuts," and a Comic-Con panel on Saturday—"Snoopy, His Sister Belle, and Other Sibling Relationships in Peanuts"—explored all the hilarious and heartfelt permutations.
The event included a special guest panelist: TV star and fashion icon Kelly Osbourne (E!'s Fashion Police and daughter of rocker Ozzy Osbourne), well-known to viewers of The Osbournes for her own sibling relationship with her brother, Jack: "I wouldn't have anyone else as my brother," Osbourne says (although now that the Osbourne offspring are grown and out of the house, "My dad is replacing all his kids with dogs!").
Known as a fashion trendsetter who has recently designed a makeup collection for MAC, Osbourne is also a lifelong Peanuts fan who particularly relates to Snoopy and his style-savvy sister.
"I don't remember a time when Peanuts wasn't a part of my life," Obsourne says. "I'll never forget when my mum took me to the museum in London when I was a kid to see Snoopy in Fashion. I take my fashion inspiration from everywhere.
TV Guide writer Damian Holbrook served as moderator of the panel, which also included Corry Kanzenberg, curator of the Charles M. Schulz Museum in Santa Rosa, California; novelist Monte Schulz, eldest son of Charles M. Schulz; and Peanuts Worldwide licensing executive Lisa Shirai, who oversees licensing activity in Japan, where Snoopy's sister Belle is a fashion rock star. "I've always been a Snoopy fan, and Belle was always my favorite character. I'm all about Belle. Team Belle."
Schulz Museum curator Kanzenberg began the panel discussion with a description of all the sibling relationships in the comic strip, including beleaguered Charlie Brown and his sharp-tongued little sister Sally, bossy Lucy Van Pelt and put-upon younger brother Linus, and Snoopy and his multitudinous siblings, who include Spike, Olaf, Marbles, and of course, fashion-darling Belle.
Asked by Holbrook how Belle would be judged on Osbourne's E! TV series, Fashion Police, Osbourne said, "Classic and chic. Her fashion has always been on point.She would definitely get best dressed."
The panel closed with a surprise appearance from costume character Belle—her first public appearance in her current style as fashionista.