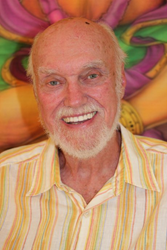 Truth is the basic fabric of the universe. It is the One. It is Love. - Ram Dass
(PRWEB) July 30, 2014
Since 2011, Women For One's vision has focused on building a global community through authenticity and inspiration. Spiritual teacher Ram Dass is uniquely aligned with Women For One in the sense that they both encourage people throughout the world to share their truth through both words and actions. By focusing on sharing from the heart and soul, Women For One's Truthtellers are empowered to take charge of their lives and make lasting changes towards creating a more authentic life both personally and globally. In the interview, Ram Dass states, "Souls have no gender - they do not bow to time and space. They are infinite." This powerful belief empowers all of us, whether we are women or men.
Ram Dass became a pivotal influence in our culture with the publication of "Be Here Now" four decades ago. His teachings have become iconic throughout the world. With the publication in 2011 of "Be Love Now," Ram Dass completed his trilogy that began in 1970 and continued with "Still Here" in 2004. He recently released a new book with co-author Rameshwar Das entitled, "Polishing the Mirror: How to Live From Your Spiritual Heart," in the spring of 2013.
At Women For One, our community is built upon a series of interviews with powerful leaders and spiritual thinkers in media, politics, literature, business, and personal development. Some of Women For One's most notable interviews include: Dr. Maya Angelou, Marianne Williamson, Gary Zukav, and Amanda Palmer. The Women For One community empowers women with the knowledge and the power to affect change in their lives personally and globally.
Ram Dass' spirit has been a guiding light for four generations and he has led millions along their journey, helping to free them from their bonds as he works his way through his own. He now makes his home in Maui and teaches worldwide through his website at ramdass.org and his Love Serve Remember Foundation. We are honored to have his insight as part of our ongoing interview series.
Please read Ram Dass's interview: it will only take a few minutes at most, but it will invigorate and enlighten your entire day.