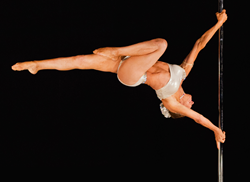 Don't let age or any limitation keep you from pursuing your dreams
Los Angeles, Calif., July 27, 2014 - (PRWEB) July 28, 2014
Greta Pontarelli, 63, won her third world title in 12 months by earning the Masters Champion title at the World Pole Sports Championships in London on July 20, proving that age is no obstacle for this athlete. She is the only U.S. competitor to qualify, place and win at the event hosted by the International Pole Sports Federation (IPSF). Over 150 athletes ranging in age from 10 to 63, traveling from 30 countries, took part in the competition. Pontarelli scored first place in the Masters (50+) Division.
Pontarelli came to the 2014 event as the reigning World Masters Champion having won the IPSF 2013 World Masters title last July. This past November, she was named the 2013 World Pole Art Masters Champion at the International Pole Championships (IPC) in Singapore by delivering a captivating performance. Pontarelli has become an inspirational figure not only for aspiring pole artists, but those from all walks of life and has acquired a passionate following. She is currently the oldest international Pole Sport champion in the world. Her goal is to continually challenge herself and hopes to encourage others to exercise, eat wholesome foods and to become masters of their destiny.
Jessa Mendoza, Choreographer/Trainer, Fembody Fitness, Huntington Beach, CA said "Greta trained with me this year and I was impressed by her drive and determination. When she took the stage I witnessed her passion for the sport and her drive to motivate and inspire others. I am very proud of her World Title win in London – she worked hard to earn it. Greta is an extraordinary competitor and a gifted athlete". https://www.youtube.com/watch?v=OedbkPfv91Y
KT Coates, president, IPSF said, we have athletes entering the sport at the opposite end of the age spectrum now, girls 10 and above. This is a very exciting time for Pole Sports, as recently the IPSF received notice from the Federation of International Gymnastics and Sport Accord that Pole Sports is eligible for recognition as an official sport and for inclusion into the World Games. The IPSF and Pole Sports have been invited to compete at the World Urban Games, which hosts Olympic and non-Olympic Sports. The World Pole Sports Championships US qualifiers are slated for January 31, 2015, in Huntington Beach, CA."
About Greta Pontarelli
Pontarelli's road to World Champion is paved with many national pole championship wins. In 2013, Pontarelli won the Pacific Pole Competition Masters Champion title, and the 2013 Pacific Pole Masters Artistic Champion title. She also won the 2012, Southern Pole Championship Masters Champion title. When she was in high school she was the Pennsylvania Floor Exercise Champion in gymnastics and competed nationally. She won national awards as a martial artist in sparring and forms in 1978. Pontarelli competed twice on the TV show American Ninja Warrior and was the oldest person to ever attempt the course. Pontarelli founded an international life coaching business in 1997 to help empower the lives of others. Her motto, don't let age or any limitation keep you from pursuing your dreams.
About International Pole Sports Federation (ISPF)
The IPSF is the governing body of Pole Sports around the globe. The IPSF is a 501(c)3 organization that aims to obtain entry for Pole Sports in the World Cup and the Olympic Games. http://www.polesports.org