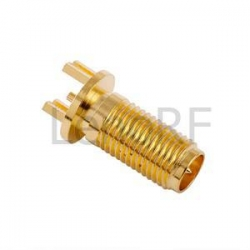 (PRWEB) July 27, 2014
Recently, LenoRF, a well-known China electrical accessory manufacturer, has launched a special offer on its SMA Female for PCB. These items can now be purchased at discounted prices, up to 30% off.
The company is popular for its range of high quality RF connectors, and especially the SMA RF connectors. These are basically semi precision coaxial RF connectors having an electrical impedance of about fifty ohms.
Like other products supplied by the company, the SMA connectors are also of the highest quality and have distinct features. They can be used with wireless communication equipment, GPS navigation kit, antennas and so on. The company ensures to produce the best products. About its high tech machinery, the company website states, "The company is equipped with a lot of the world's most advanced equipment and apparatus for production and testing such as the US-made Harding CNC lathes (Cobra 42, GT27) and the 2000 VMC1000 vertical milling center, the Hewlett Packard network analyzer, the Swiss computerized cable stripper, the Canadian pneumatic printer and Huagong brand laser. All of the products are guaranteed by quality under ISO9001 and UKAS."
This is not all; these fine quality SMA connectors are being supplied at heavy discounts which make them priced at 50% less than most of the other SMA connectors available in the market.
About LenoRF:
LenoRF is an online supplier of high-end electrical equipment. It is a China-based company that aims to provide customers with high quality products at the lowest possible prices. Customers can try the company's products through sample orders with a long-term contract. Most customers come back soon after receiving their first deals.
More details about the company's useful products can be found at http://www.rfcnn.com/SMA-female-Right-angle-through-hole-for-PCB-RF-Connector-141.html.