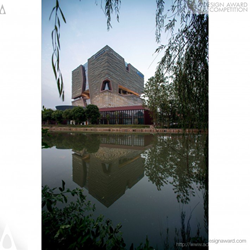 Como, Italy (PRWEB) July 28, 2014
A' Design Award and Competition is pleased to announce that the Xian Jiaotong-Liverpool University Administration Building Design by Aedas became the winner of Platinum A' Design Award in Architecture, Building and Structure Design Category. Aedas' work was elected as winner within numerous other nominations.
Xian Jiaotong-Liverpool University Administrative Building
Aedas, the creative design team behind the awarded design Xian Jiaotong-Liverpool University Administrative Building, said, "The university is located in Suzhou, where the famous Taihu stone is unearthed. The design of the Administration Information Building was inspired by the porous nature of the Taihu stone. The pores and holes are transformed into a void structure with functional spaces linking up different sections of the building. The voids also allow the building to respond to the users and surrounding context and become a vessel for interaction. The different heights of voids also create a three-dimensional Suzhou garden within the building." Learn more at http://www.adesignaward.com/design.php?ID=32793.
Team Members for Xian Jiaotong-Liverpool University
Xian Jiaotong-Liverpool University was conceived by Architect Andy Wen (Aedas); M&E Consultant Suzhou Institute of Architectural Design Co.,Ltd; Structural Engineer Suzhou Institute of Architectural Design Co.,Ltd; Consultants AFP International GmbH, Lead Dao Technology and Engineering Ltd; and Main Contractor Shenyang Yuanda Aluminum Industry Engineering Co.,Ltd.
The Platinum A' Design Award
The Platinum A' Design Award is a prestigious award given to top 1% percentile designs that has attained an exemplary level of excellence in design. Entries to the A' Design Competition are evaluated by an expert, international jury panel following strict guidelines. The 50-person jury panel consisting of academics, professionals and media members peer-review and anonymously vote on entries. Laureates of the A' Design Awards are given the A' Design Prize. The A' Design Prize includes a series of publicity and public relations services such as inclusion in Best Designers website, online exhibition at DesignMag, press release preparation and distribution in order to disseminate the award winning works to further audiences. Laureates also receive the exclusive design award trophy, hardcover yearbook, design excellence certificate and invitation to exhibition and gala-night in Italy.
About A' Design Award and Competition
A' Design Award and Competition was established to promote best designs and designers worldwide in order to create a global awareness for good design practices and principles worldwide. The A' Design Awards are organized in a wide range of creative design disciplines including but not limited to Spatial Design, Communication Design, Product Design and Service Design in order to push designers, product manufacturers and service providers in all industries to come up with superior products that benefit society. To learn more about the A' Design Contest, visit http://www.whatisadesignaward.com.