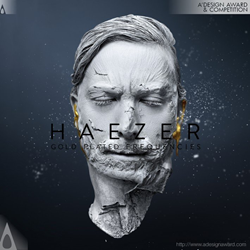 Como, Italy (PRWEB) July 28, 2014
A' Design Award and Competition is pleased to announce that the album cover design Haezer by Chris Slabber has been honored with the famed Platinum A' Design Award in Photography and Photo Manipulation Design Competition. Chris' work was selected as one of the winners within thousands of other nominations.
More on Haezer
Chris Slabber, the project leader of the awarded album cover Haezer, explains, "Haezer is known for his solid bass sound, epic breaks with well polished effects. Its the sort of sound that comes off as just straight forward dance music, but on closer inspection or listening you'll start to discover multiple layers of frequencies within the finished product. For the creative concept and execution, the challenge was to simulate the audio experience known as Haezer. The artwork style is not at all the typical dance music style, thus making Haezer a genre of his own." Learn more and download high-resolution photos at http://www.adesignaward.com/design.php?ID=32975.
Design Team for Haezer - Gold Plated Frequencies
Haezer - Gold Plated Frequencies album cover was made by Photographer Adriaan Louw; Makeup Artist Jeanne-Marie Raubenheimer; Art Direction: Chris Slabber; and Post Production and Manipulation: Chris Slabber.
The Platinum A' Design Award
The Platinum A' Design Award is a prestigious award given to top 1% percentile designs that has achieved an exemplary level of perfection in design. Entries to the A' Design Award & Competition are peer reviewed and anonymously voted by a 50-person jury panel consisting of academics, press members and design professionals. Designs that receive the highest scores are announced as winners after criteria based voting. Laureates of the A' Design Award & Competition are granted a series of public relations and publicity services such as inclusion in World Design Rankings, publicity through DXGN and IDNN design magazines in order to celebrate the status of winning the accolades. Laureates are also invited to attend the exhibition and gala-night in Italy in order to receive their trophies, design excellence certificates and the yearbook annuals.
About A' Design Award and Competition
A' Design Award and Competition is the worlds' most diffused design competition with entries from around two hundred countries. The A' Design Accolades are organized every year in a wide array of categories. The ultimate aim of the A' Design Competition is to push designers, artists and brands worldwide to come up with superior products and projects that benefit society. The Discover more about A' Design Awards at: http://www.adesignaward.com.