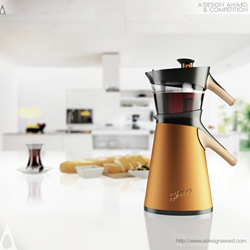 Como, Italy (PRWEB) July 27, 2014
A' Design Award and Competition is pleased to announce that the Steam Tea Maker by Hakan Gursu has been announced as a winner of the renowned Platinum A' Design Award in Home Appliances Design Category. The Steam Tea Maker was elected as a winner among thousands of other entries.
Details of Steam Tea Maker
Hakan Gürsu, the project leader of the awarded tea maker steam, said, "Steam is a stove-top tea maker. It brews tea by passing hot water pressurized by steam through stacked kettles. Reflecting upon the tea culture in the east, Steam has stacking teapots specially designed for tea preparation. Larger lower kettle is filled with water to boil, and then boiled water evaporates into upper kettle, steeping loose-leaf tea blend rather slowly. When the desired amount is collected in upper part, switch on top is turned to stop water transfer. Serving is made using two kettles with poured tea and water to dilute, therefore allowing user to adjust the strength of drink." Learn more and download high-resolution photos at http://www.adesignaward.com/design.php?ID=33270.
Creative Team for Steam
Steam was realized by Hakan Gursu and Asst. Designer Eren Senyurt.
The Platinum A' Design Award
The Platinum A' Design Award is a prestigious design award given to top 1% percentile designs that demonstrates an exemplary level of sublimity in design. Entries to the A' Design Award & Competition are judged by an international jury panel consisting of design experts, professionals, press members and academics. Each entry is peer reviewed and anonymously voted based on predetermined evaluation criteria. Laureates of the A' Design Award are granted the A' Design Prize which includes a series of public relations and marketing services such as inclusion in Design Mega Store, a custom-interview with the designer, press release preparation and distribution in addition to the 3D printed award trophy, hardcover yearbook publication, exhibition and gala-night invitations.
About A' Design Award and Competitions
A' Design Award and Competition is the worlds' leading design accolade that accept entries of extraordinary, original and innovative design concepts, products and services for awards consideration. The A' Design Awards are organized internationally in a wide-array of categories in order to highlight the best designs from across the globe. The ultimate aim of the competition is to push designers, product manufacturers and brands worldwide to come up with superior products and services that benefit society. Learn more about the A' Design Competition at http://www.whatisadesignaward.com.