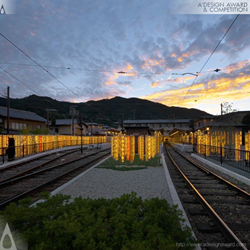 Como, Italy (PRWEB) July 28, 2014
A' International Design Award and Competition is pleased to inform that the project Randen Arashiyama Station by Yasumichi Morita has been awarded with the prestigious Platinum A' Design Award in Interior Space and Exhibition Design Category.
The Randen Arashiyama Station
Yasumichi Morita, the project leader of the awarded work Randen Arashiyama Station said "Randen Arashiyama Station is located in central of the Arashiyama and at the opposite of the Tenryuji-temple. The forest of lights at the platform were created with approx. 600 poles wrapped with Kyoto Yuzen kimono fabrics. The station is hoped to be a special place for various people visiting the temple, to give them a dramatic moment. The lighting project was designed to bring happiness to the visitors and is expected to become one of the beautiful places to visit in Kyoto." Learn more at: http://www.adesignaward.com/design.php?ID=33344
Team Members for Randen Arashiyama Station
Randen Arashiyama Station was conceived by Principal designer Yasumichi Morita, Designer Takuma Inoue and Drafter Hitoshi Takamura.
The Platinum A' Design Award
The Platinum A' Design Award is a prestigious award given to top 1% percentile designs that demonstrates an exemplary level of perfection in design. Nominated designs are evaluated by a 50-person jury panel consisting of academics, press members and design professionals. Entries are anonymously voted following predetermined evaluation criteria. Laureates of the A' Design Award and Competition are eligible for the A' Design Prize which includes a series of public relations and dissemination tools such as inclusion in MOOD Museum of Design, World Design Rankings, Best Designers' listings as well as complimentary subscription to ListOf.Net to celebrate the success of winning the accolades. Award winning designers also receive the exclusive 3D printed metal award trophy, yearbook of best designs as well as invitation to gala-night and award ceremony in Italy.
About A' Design Award and Competitions
A' Design Award and Competition is an annual, international design accolade that is open to entries of extraordinary products, projects and service designs by talented designers, artists and architects worldwide. The ultimate aim of the A' Design Awards is to create a global awareness for good design practices and principles by highlighting the very best design projects from across the globe. Learn more about the A' Design Awards at: http://www.whatisadesignaward.com.