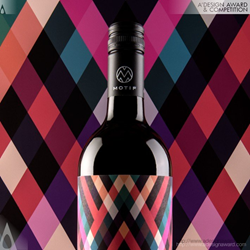 Como, Italy (PRWEB) July 28, 2014
A' International Design Award and Competition is pleased to announce that the Motif Wine packaging design by En Garde Interdisciplinary Gmbh has been awarded with the notable Platinum A' Design Award at Packaging Design Competition. En Garde's work was chosen as a winner by among thousands of submissions.
Details of Motif Wine
En Garde Interdisciplinary Gmbh, the creative team behind the awarded work Motif Wine said "Our vision was to "think" the world of wine anew. We wanted a graphic pattern to visualize the taste and character of six different wines. The letter M, with lines in a 60-degree angle, acts one the one hand as a key visual and unites all of the bottles under one corporate design. On the other hand, the varying shades of color and the individual patterns provide a tasteful indication of whether the wine is sweet, full-bodied or effervescent. To enhance the visualization of the wine character, we chose earth- and fresh warm colors as well as soft yellow or green tone." Learn more and download high-resolution photos at: http://www.adesignaward.com/design.php?ID=33368
Design Team for Motif Wine
Motif Wine was imagined by Concept: Franz Lammer; Creative Directors: Mario Rampitsch and Valentin Zhuber-Okrog; and Designer: Kristina Bartosova
The Platinum A' Design Award
The Platinum A' Design Award is a prestigious award given to top 1% percentile designs that has achieved an exemplary level of quality in design. Entries to the A' International Design Award & Competition are peer reviewed and anonymously voted by a 50-person expert jury panel consisting of press members, scholars and design professionals. Laureates of the A' Design Award and Competition are given the A' Design Prize which includes a series of PR and publicity services such as inclusion at Designer Rankings, article at DXGN design magazine, press release preparation and distribution in addition to the award trophy, annual of best designs, and invitation to design exhibition and award ceremony in Italy.
About A' Design Award and Competition
The A' Design Award and Competition was established to promote designers and brands who implement good design practices and principles in order to create superior products, projects and services that benefit society. The ultimate aim of the competition is to create a global awareness for design and to push designers, artists, architects and businesses worldwide to come up with better products. Learn more about the A' Design Awards at: http://www.whatisadesignaward.com