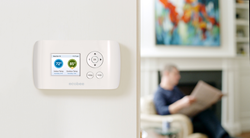 With the program running for a second year in a row, we will see greater participation and awareness about the importance of reducing demand to save on energy bills and lessen the burden on the grid
Toronto, ON (PRWEB) July 28, 2014
High summer temperatures can take a toll on energy use in Texas. In its second year, Austin Energy is taking steps to help conserve energy while summer demands are high. With its Power Partner Thermostat program, Austin Energy is working with smart thermostat maker, ecobee, to help customers lower their energy bill and participate in demand response events.
When customers enroll in the program and install an ecobee Wi-Fi-enabled smart thermostat, they will receive an $85 rebate as well as additional energy-saving opportunities on their bill.
"Austin Energy was one of the first utility companies to implement a smart thermostat program with a rebate incentive for their customers," said Stuart Lombard, CEO and President, ecobee. "With the program running for a second year in a row, we will see greater participation and awareness about the importance of reducing demand to save on energy bills and lessen the burden on the grid."
With heating and cooling accounting for 50 percent of a home's energy bill, the ecobee smart thermostat will help Austin Energy customers make informed decisions about their home's energy use. Homeowners can monitor and control their thermostat from anywhere, using a smartphone, tablet, or computer. The thermostat also understands the weather outside and a home's energy performance to optimize for energy savings.
Participating customers will also help reduce energy use when it matters most – during high use periods. This helps customers lower their monthly energy bill and helps Austin Energy avoid unplanned outages. Participation is voluntary and customers choose to opt-in or out when they like.
"Internet-connected thermostats, like ecobee, give our customers greater control of their comfort and savings," said Debbie Kimberly, VP of Customer Energy Solutions, Austin Energy. "When our customers choose to participate in our demand response events, they are helping to delay the need to acquire additional peaking power and prevent unplanned outages."
For more information on Austin Energy's Power Partner program, visit http://austinenergy.com/wps/portal/psp/residential/offerings/cooling-and-heating/power-partner-thermostats.
About ecobee
ecobee—maker of the world's first smart thermostat—delivers intelligent energy management solutions to homeowners, commercial, HVAC, and Utility markets. With hundreds of thousands of installs across North America, ecobee's award-winning smart thermostats are the easiest way for customers to understand, manage, and reduce their energy consumption. ecobee's pioneering work with Open APIs is accelerating the adoption of the Internet of Things and leading to a more connected home.
ecobee's line of Wi-Fi enabled smart thermostats, online web portals and mobile apps are the products of choice for ease of use, energy efficiency and demand response programs. http://www.ecobee.com
About Austin Energy
Austin Energy is the nation's eighth largest publicly owned electric utility and a department of the City of Austin. Our mission is to deliver clean, affordable, reliable energy and excellent customer service.
Our utility provides electricity to more than 430,000 customers and a population of about one million in the City of Austin, several neighboring cities, unincorporated areas of Travis County, and a portion of Williamson County. http://www.austinenergy.com