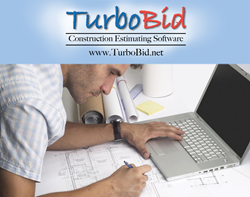 The heart and soul of any estimating program is defined by the contents of its database.
Plainfield, Il (PRWEB) July 29, 2014
TurboBid, one of the nation's leading providers of electrical and plumbing estimating software, has added TurboCloud technology to its popular estimating software. TurboCloud is a unique application that helps TurboBid users maintain the contents of their database.
"The heart and soul of any estimating program is defined by the contents of its database," stated Bill Ruffner, TurboBid's founder and CEO. "Most of the major estimating programs come with a bright and shiny new database. The problem is that if you don't maintain it, the contents of the database can become outdated."
"It's really easy to add new items and assemblies in TurboBid," continues Ruffner, "What takes time is finding the item's UPC number, catalog number, pricing and labor units."
To help with this issue, the folks at TurboBid are constantly adding new items and assemblies to TurboBid's master database that is located on their server in the cloud.
When a TurboBid user opens TurboCloud, the contents of their local database is displayed on the left side of the screen and the contents of TurboBid's cloud based master database is displayed on the right.
The contents of master database is filtered to only display items and assemblies that are not in the local database. The user simply uses drag and drop to add new items and assemblies from the master database to their local database.
"Another really cool feature of TurboCloud is the community sharing aspect." Ruffner states, "We have thousands of TurboBid users spread out across the country. They're adding new items and assemblies to their database as needed for their type of work and local requirements. I've always though how cool it would be if we could bring all of these guys together and allow them to share what they've created with each other."
TurboCloud contains a section that displays the items and assemblies that other TurboBid users have created on their own. When community members agree to share, TurboCloud will automatically upload the items and assemblies that they've created. TurboCloud administrators review the uploaded items and if they're deemed to be of value to the community, they're moved to the community added section where other users can drag and drop them to their local database.
According to Ruffner, "The database has expanded by leaps and bounds due to the community added feature. We've got contractors that are adding things that we wouldn't have known to add. Now we have all of these really great contractors helping build TurboBid's database."
TurboCloud can also be used to update material prices. The material prices in TurboCloud are kept current by using a proprietary pricing matrix. With a click of a button, users can update their material pricing to match the current prices that are in TurboBid's master database.
TurboBid is an electrical and plumbing estimating software program that is designed to help all electrical, plumbing and low voltage contractors win more profitable business by providing them with a systematic process to identify all costs, maximize crew productivity and improve their professional image.
Bill Ruffner, in addition to being TurboBid's founder and CEO, has been an electrical contractor with over 25 years of experience. Ruffner states, "TurboBid is the only estimating software program on the market that allows contractors to estimate all types of work such as new residential construction, commercial, industrial, multi-family, remodeling, service work, flat rate, etc."
"Regardless of the type of work a contractor currently performs, they should be prepared for whatever opportunities come their way. If they're going to be successful in today's economy, they need an estimating system that will allow them to complete estimates, quotes and invoices for all types of work."
Ruffner adds that "TurboBid is powerful yet easy to use, plus it automatically generates great bid packages. In fact, TurboBid is highly recommended by industry expert Mike Holt and is classified as the 'Best Buy' of all major estimating programs on his website." Mike also invited Ruffner to be a panelist and represent the software industry in his 2012 estimating training DVD package.
Geof Gratny, an electrical contractor in Montana said, "I've used TurboBid to win jobs including small remodels, service work, large residential, medium commercial and several midsized industrial projects. I really enjoy knowing exactly what my costs are, which enables me to negotiate more confidently."
Gratny concludes, "I'm convinced that my success in this tight economic time is largely due to being able to produce a professional looking bid package, be accurate with the numbers and know my boundaries for pricing. I'm very happy with the support and flexibility that TurboBid provides."
TurboBid's customers receive training from actual estimators that have experience running their own successful contracting companies. Also, if a TurboBid user is too busy to complete an estimate, they can send their database, which contains their cost structure, to a certified TurboBid estimator who will complete the estimate and send the database back to the customer. It's like having an on-call estimator coming into their office when needed.
Those interested in learning more about TurboBid can visit their website at http://www.TurboBid.net.