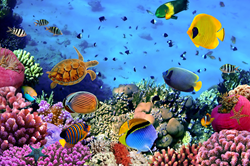 Nature's Sleep is planning a surprise announcement in upcoming weeks. The mattress company cannot divulge any specifics about the surprise, but would like to give customers a few hints about the upcoming collaboration.
Davie, FL (PRWEB) July 29, 2014
"When most people think about our mattresses, they don't automatically think about fish," said a smiling Alan Hirschhorn, Vice President of Marketing for Nature's Sleep. "But we think that after customers hear about our surprise collaboration, that might be an association that is made."
"Another hint is that customers who are fans of a certain cable television show will enjoy an upcoming episode," said Mr. Hirschhorn.
Nature's Sleep is a company that likes to involve its customers in many ways, from art competitions to photo contests to draws and giveaways. It makes sense that they would be involved in this surprise collaboration to create something that will please many customers.
"We have made all different types of mattresses and have seen our mattresses on all different types of beds," said Mr. Hirschhorn. "But this upcoming surprise is definitely a first for us. We are looking forward to hearing customer reaction to the unique collaboration."
Nature's Sleep makes mattresses and other specialty sleep products that are designed to bring harmonious sleep to customers. The mattress company also relies on sustainable practices in order to protect the earth's natural resources.
Stay tuned for further information on the Nature's Sleep surprise.