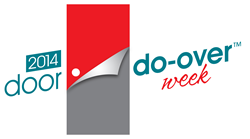 MAUMEE, OHIO (PRWEB) July 29, 2014
Therma-Tru Corp. will launch a "Door Do-Over Week" the first week of August. The annual event launch is scheduled for August 3-9, 2014 and focuses on helping homeowners evaluate their current doors, learn more about door aesthetics and components, and providing valuable information on making door purchase decisions.
"Many homes need a 'door do-over' because the homeowners inherited a door they don't like when they purchased their house, the door has become inefficient and worn out over time, or the door is just plain ugly," says Brad Johnson, vice president of marketing for Therma-Tru Corp. "People need to understand they don't have to live with their existing door. Replacing a front entry door can add personal style and efficiency to a home, plus it makes good economic sense."
Johnson cites the 2014 Cost Vs. Value Study conducted by Remodeling magazine* that says homeowners can recoup about 70.8 percent of the investment cost when adding a fiberglass door to the home as a midrange project.
Door Do-Over Week coincides with National Curb Appeal Month in August. "We want homeowners to remember that having a good-looking front entry door has a positive impact on the overall curb appeal of the home," says Johnson. "Whether it's a woodgrain entry door or a painted door, the entry is the key welcoming trademark of every house."
Door Do-Over Sweepstakes
To add excitement to Door Do-Over Week, Therma-Tru has developed a sweepstakes that runs throughout National Curb Appeal Month, from August 1 - 31, 2014.
Homeowners are invited to enter the online Door Do-Over Sweepstakes for the chance to win a "door do-over" from Therma-Tru including a new fiberglass entry door system. People can enter the sweepstakes at http://www.todayshomeowner.com/DoorDoOver.
"The sweepstakes adds a fun element to our week-long focus on doors," says Johnson. "Once the winner is selected we'll follow the progress of the door installation and report back to the public on the 'before and after' transformation."
A Week Dedicated to Doors
During Door Do-Over Week, Therma-Tru has designated a theme for each day to help consumers learn more about their doors. Information will be found daily on the company's website, Facebook and Twitter pages. Topics include:

Door Evaluation Day - Monday, August 4: Providing homeowners with methods to evaluate their current door for both effectiveness and appeal.
What's Inside Your Door Day - Tuesday, August 5: Offering explanations of the components and system of a door including energy efficiency features.
Slam Your Door Day - Wednesday, August 6: Talking about the wear and tear a door goes through and how doors are constructed and tested to withstand harsh treatment.
Dynamic Door Do-Over Day - Thursday, August 7: Focusing on tools available to homeowners for locating and deciding on what door options are available to them.
I Love My Door Day - Friday, August 8: Showcasing color advice for doors from national color expert Kate Smith along with success stories of home improvement experts who have add fiberglass doors to their homes.
About Therma-Tru
Therma-Tru is the leading entry door brand most preferred by builders and remodelers. Founded in 1962, Therma-Tru pioneered the fiberglass entry door industry, and today offers a complete portfolio of entry and patio door system solutions, including decorative glass doorlites, sidelites and transoms, and door components. The company also offers low-maintenance Fypon® urethane and PVC products. Headquartered in Maumee, Ohio, Therma-Tru is part of Fortune Brands Home & Security, Inc. (NYSE: FBHS). For more information and product warranty details, visit http://www.thermatru.com, http://www.fypon.com or call (800) 537-8827.
###