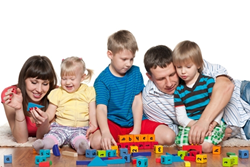 one must childproof sharp corners on built-in structures.
Chicago, IL (PRWEB) July 27, 2014
When house hunting as a parent, there are several risk factors that indicate that a home may not be a safe option for a child. The Federal Savings Bank suggests that this goes beyond whether a neighborhood has a low crime rate. Here are property traits than can spell danger for a little one:
Sharp corners: Be on the lookout for counters and other structures that have pointy ends that are within reach of a child. If you've ever hit a knee on the edge of a coffee table, you know how painful it can be to make contact, and children can sustain serious injuries. Although one can avoid putting hazardous furniture in the home one buys, one must childproof sharp corners on built-in structures.
Closed floor plan: Open layouts aren't just a way to have a home with a more modern style. They also allow one to keep an eye on theirs kid from a slight distance, which can mean watching their child in his or her playpen in the living room while preparing dinner in the kitchen. The one drawback to this layout is that it can be harder to keep a child contained in one room, as it is more difficult to put of child safety gates where doorways aren't present.
Low and ungrounded outlets: Kids like to stick objects in electrical openings, which is why many parents purchase outlet covers. To further alleviate this risk, search for a home with outlets and other sockets that are not close to the floor where they can be reached by a child. Additionally, look for grounded outlets that automatically shut off in the event of an electrical shock.
Unfenced swimming pools: One a hot summer day, it can be great to cool down with a dip in the pool. If considering one of these water features in a home, make sure that it has a fence around it so that a child doesn't have the opportunity to slip into the water.
Easily accessible cabinets and closets: As a parent, storage is likely at the top of a list of desired amenities. However, don't forget to factor in whether additional cabinets and closets can pose a danger to a child. If there are many low cabinets, for example, one may need add childproof locks to keep a kid from getting a hold of cleaning supplies and other hazardous materials. This can also keep a little one from getting trapped in one of these spaces.
Unfenced backyards: One benefit of becoming a homeowner is that a child can have a big outdoor space to play. When viewing homes, look for properties that have a fenced-in backyard in addition to the size one wants. This can keep a kid from wandering off.
Lots of local traffic: If a child is old enough to play outside without constant supervision, take a moment to examine how much traffic passes the home. If there are many cars at numerous times of the day, this could present a safety risk when a child is outdoors.
Contact The Federal Savings Bank, a veteran owned bank, for information about getting financing for the perfect kid-friendly home.