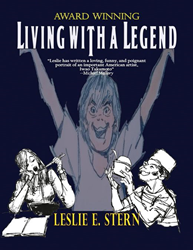 For anyone, everyone, who grew up with Hanna-Barbera, this is a treat. -- Jerry Beck, Animation Historian
Friendswood, TX (PRWEB) July 28, 2014
As kids turn to the summer fun of new cartoon features and beloved classics, TotalRecall Publications announces a new book that expands the colorful history of animation. Multi-award-winning "Living with a Legend" by Leslie E. Stern offers touching personal stories about her acclaimed stepfather, Iwao Takamoto, who designed such animation masterpieces as Scooby-Doo, Astro, Mutley, and Dino for Hanna-Barbera. He directed Charlotte's Web and worked on classic films such as Lady and the Tramp and Cinderella early in his career at Disney.
Iwao Takamoto is considered a legend in the animation industry. Recruited by Walt Disney as the first inmate released from California's Manzanar concentration camp for Japanese Americans during World War II, he contributed to a number of Disney's early classics. Takamoto helped design Lady for Lady and the Tramp and the lovable mice in Cinderella, as well as worked as a master animator on Sleeping Beauty and 101 Dalmations.
When asked to join the start-up company Bill Hanna and Joe Barbera were creating, Takamoto leapt at the chance. He designed cartoon icons like Scooby-Doo, Astro, Mutley, The Great Gazoo, and Penelope Pitstop for Hanna-Barbera -- ultimately creating about 85% of their characters.
Leslie's musings of growing up in a multi-ethnic home amidst cartoon genius tells the story of her stepfather's influence on her, stories of her youth, and Takamoto's influence on others. This full-color coffee table book includes never-before-seen personal drawings done by Takamoto for Leslie and for her mother, drawings done by other famous animators for him, as well as rarely-seen photographs and drawings.
Fans of Scooby-Doo, The Pink Panther, The Flintstones, and The Jetsons will delight in the warm walk down memory lane that the book invokes. Jerry Beck, Animation Historian, adds, "For anyone, everyone, who grew up with Hanna-Barbera, this is a treat."
A memorable pleasure for readers, the book is also considered a substantive contribution to the history of animation by many in the film industry. Leonard Maltin, movie reviewer, movie historian, and author, applauds "'Living with a Legend' as a loving, personal tribute to one of the top talents in the history of animation."
Sander Schwartz, President of Kids & Family Entertainment at FremantleMedia Enterprises and past President of Warner Bros. Animation, says, "Iwao Takamoto was a man of many talents….including being a magnificent artist, a thoroughly engaging conversationalist and an amazing storyteller. By reading Leslie's book I'm inspired again by the story of a truly unique American whose well-lived life will hearten us all."
Michael Mallory, co-author of "My Life with a Thousand Characters," further comments, "I smiled through every page of 'Living with a Legend'. To paraphrase Iwao himself, 'Living with a Legend' was not written through the hands, but through the heart."
'Living with a Legend' is available in Kindle, limited edition hardbound, and paperback editions from Amazon.com, Barnes & Noble, Books-a-Million and other booksellers.
A Los Angeles native, Leslie E. Stern earned an MA in English Literature from the University of Miami and pursued a doctoral degree in philosophy. She went on to career in public relations, but never forgot her roots in fiction writing. Leslie is now the highly acclaimed author of the poetry book "Images from My Soul," award-winning non-fiction book "Living With A Legend," and award-winning novel "Addictive." She is an active member of Mensa and is a member of Writer's Guild of America, Atlanta Writer's Club, and Zona Rosa.
TotalRecall Publications Inc. was founded in 1998 by Bruce Moran, a former NASA IT professional who transitioned into computer instruction and educational materials. The company began with the introduction of study guides and Q&A testing software for various computer and financial certification exams and expanded into library and information science textbooks in 2007. Since 2008, the publisher has been developing a fiction product line by debut authors that focuses on mysteries, thrillers, and military action. Additionally, TotalRecall has expanded into general nonfiction and now publishes more than 200 non-fiction and fiction titles, all distributed worldwide through book retailers and wholesalers and via eBook databases such as ebrary, EBSCO, and Books24x7.com. http://www.totalrecallpress.com.