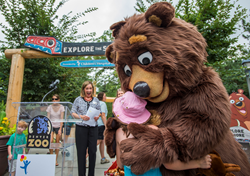 "We look forward to the joy Elbert will bring our patients through regular visits," said Jena Hausmann, Chief Operating Officer, Children's Colorado.
(PRWEB) July 27, 2014
Denver Zoo, in partnership with Children's Colorado, unveiled their new mascot this morning at the Zoo's first Teddy Bear Care Fair. Elbert, a 6-foot-tall, 300-pound, brown-colored bear debuted by pulling a wagon full of plush versions of himself at the Zoo's Explore the Shore Play Area, Presented by Children's Colorado. After his introduction, families were able to take their favorite stuffed animals around the Zoo for "medical procedures."
"We are so excited to mark another important milestone in our longstanding partnership with the Denver Zoo," said Jena Hausmann, President & Chief Operating Officer, Children's Colorado. "We look forward to the joy Elbert will bring our patients through regular visits each month."
Elbert, named after the highest mountain in Colorado, doesn't belong to an official species, but was born in the Rocky Mountains. He's known for his soft brown fur, bright smile and heart-shaped patch of fur on his chest. With favorite foods of fish, fruits and vegetables and hobbies such as dancing, hiking and skiing, Elbert loves to promote healthy eating, kid safety, caring for animals and an active lifestyle. His friendly and adventurous personality is sure to make him many friends soon!
This was the first Teddy Bear Care Fair ever hosted at Denver Zoo. Together with Children's Colorado, Zoo staff handed out plush mascots to the first 1,000 kids and certificates of health at check-in to all children who visited the Explore the Shore Play Area. Children and families were able to walk around the zoo to different stations all day so volunteers and staff could provide x-rays, bear casting and other medical procedures and education to stuffed animals.
"Denver Zoo is proud to have Children's Colorado as a sponsor of our "Explore the Shore Play Area" and as a partner for several community programs. Our partnership is such a natural fit and our new mascot will enable us to continue to provide for children from the region," says Denver Zoo President/CEO Shannon Block.
About Denver Zoo: Denver Zoo is home to 4,000 animals representing more than 600 species and is accredited by the Association of Zoos and Aquariums (AZA). AZA accreditation assures the highest standards of animal care. Denver Zoo is funded in part by the Scientific and Cultural Facilities District (SCFD), a unique funding source serving hundreds of metro Denver arts, culture, and scientific organizations.
A leader in environmental action, Denver Zoo is dedicated to ensuring the safety of the environment in support of all species and is the first U.S. zoo to receive ISO 14001 certification for the entire facility and operations. This international certification ensures the zoo is attaining the highest environmental standards.
Since 1996, Denver Zoo has participated in 594 conservation projects in 62 countries on all seven continents. In 2012 alone, Denver Zoo participated in 98 projects in 18 countries and more than $1 million in funds was spent by the zoo in support of animal conservation in the field.
About Children's Hospital Colorado
Children's Hospital Colorado (Children's Colorado) has defined and delivered pediatric health care excellence for more than 100 years. Founded in 1908, Children's Colorado is a leading pediatric network entirely devoted to the health and well-being of children. Continually acknowledged as one of the nation's top ten Best Children's Hospitals by U.S. News & World Report and Parents magazine, Children's Colorado is known for both its nationally and internationally recognized medical, research, education and advocacy programs, as well as comprehensive everyday care for kids throughout Colorado and surrounding states. Children's Colorado also is recognized for excellence in nursing from the American Nurses Credentialing Centers and has been designated a Magnet® hospital since 2005. The hospital's family-centered, collaborative approach combines the nation's top pediatric doctors, nurses and researchers to pioneer new approaches to pediatric medicine. With urgent, emergency and specialty care locations throughout Metro Denver and Southern Colorado, including its campus on the Anschutz Medical Campus, Children's Colorado provides a full spectrum of pediatric specialties. For more information, visit http://www.childrenscolorado.org and connect with Children's Colorado on Facebook, Twitter and Pinterest.
###