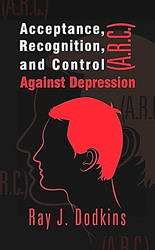 An unembellished story of how one man fought back and once again took control over his life.
(PRWEB) July 29, 2014
"Acceptance, Recognition, and Control (A.R.C.) Against Depression" was written by a man who faced his own demons and wants other men to heed the call to self-help..
Ray J. Dodkins' intended life partner left. A month later, he had no job, leaving Raymond with a mortgage payment he could no longer pay. When Raymond approached the government for assistance, the emotional disturbance was so great that they put him in a two-year counselling program. But this approach didn't get to the root of his problems.
Raynond says, "Even after obtaining work, I still didn't understand why or what was happening to me. After emotional searching, I eventually put pen to paper to record my personal awareness of what developed within me as a man, and how it affected the way I reacted and felt." This is his unembellished story of how he fought back and once again took control over his life.
About the Author
Ray J. Dodkins grew up in Melbourne, Australia. Now retired, this is his first book.
Book Details
Genre: Self-Help / Depression
Author: Ray J. Dodkins
Format: Paperback, 18 pages
Pub date: July 2012
"ACCEPTANCE, RECOGNITION, AND CONTROL (A.R.C.) AGAINST DEPRESSION" (ISBN: 978-1-62516-705-7) is now available for $9.97 and can be ordered through the publisher's website: http://sbpra.com/RayJDodkins, Amazon or Barnes and Noble.
WHOLESALERS: This book is distributed by Ingram Books and other wholesale distributors. Contact your representative with the ISBN for purchase. Wholesale purchase for retailers, universities, libraries, and other organizations is also available through the publisher; please email bookorder(at)aeg-online-store(dot)com.
Strategic Book Publishing and Rights Co, LLC