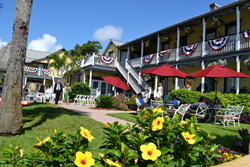 We've focused a lot of items around tomatoes and fresh vegetables, all available at our local markets.
St. Augustine, Florida (PRWEB) July 29, 2014
The Bayfront Marin House, an award-winning waterfront bed and breakfast in St. Augustine, Florida, serves a two-hour happy hour each day. Recently they announced their new summer menu, featuring fresh local favorites perfect for the warmest months.
"Our daily happy hour is one of the reasons that so many of our guests are frequent visitors at our bed and breakfast," says owner Mike Wieber. "Our cooks like to keep adding new menu items, based on seasonal favorites. This summer, we've focused a lot of items around the fresh vegetables that are currently available at our local markets."
New menu items include a fresh salad salsa, full of tri-colored peppers, tomatoes, onions, and local datil peppers for a little heat. Wieber admits that many of the new selections feature tomatoes, his personal favorite.
"I think our cooks were thinking about me as they came up with recipes," he says. "I noticed a lot of my favorites on the list."
Wieber's newest favorite is a one-handed, dipless vegetable dip. It's a thin pastry crust, covered with a layer of cream cheese and sour cream, and topped with a garden's worth of vegetables--tomatoes, peppers, and green onions--then sprinkled with cheddar cheese and black olives. Served cold, it is easy to eat with one hand, leaving guests' other hand free for the inn's famous Maringria, a red- or white-wine based sangria full of fresh summer fruits.
Other offerings include shrimp bruschetta, fresh guacamole, apricot turkey pinwheels, caprese skewers, and something that the staff calls "ham presents," which includes pickled asparagus and red peppers wrapped in ham, bundled with havarti cheese, and tied with a green onion string.
"We grow a lot of herbs to use at the inn," says Wieber, "so depending on what is growing well, we might add or subtract menu items as the summer goes on. But our goal is to create items that are light, fresh, and flavorful--a perfect small bite to go with a drink on the patio."
The Bayfront Marin House serves a two-hour happy hour every day; it is complimentary for inn guests, and $15/per person for outside visitors. The inn is running a summer special which offers reduced rates on some of their most popular rooms; for more information, see http://www.bayfrontmarinhouse.com, or call 904.824.4301 to reserve a room.
About the Bayfront Marin House
The Bayfront Marin House is a waterfront bed and breakfast located in the historic district of St. Augustine, Florida. With 15 luxurious rooms, the inn has been recognized for its hot southern breakfasts, two-hour happy hour, and concierge-level service. Reservations can be made online at http://www.bayfrontmarinhouse.com, or by calling (904) 824-4301.