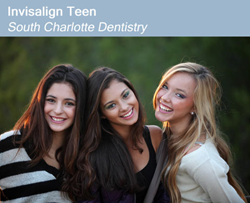 Our teen patients love Invisalign Teen because it is a much less invasive teeth straightening process. -- Dr. James Wells, South Charlotte Dentistry
Charlotte, NC (PRWEB) July 30, 2014
South Charlotte Dentistry, located in the Ballantyne area of Charlotte NC, is now offering teens a new choice in teeth straightening. "We are excited about this new product," explains Dr. James Wells, "Now, our younger customers can straighten their teeth without the look of traditional braces."
About Invisalign Teen
Invisalign Teen is designed to straighten crooked teeth with invisible and removable aligners. "We have used Invisalign for our adult patients with great success. We are very excited to offer Invisalign Teen to our younger patients that are seeking a less invasive teeth straightening experience," says Dr. Wells.
According to the Invisalign Teen Website, this alternative to traditional braces is effective for most common teeth straightening issues. "We examine our patients thoroughly to be certain that Invisalign Teen will fix the problem," says Dr. Wells, "So far the results have been outstanding for teen patients with overcrowding, overbites, under bites, and gaps."
Dr. Wells reports that the Invisalign process takes about the same amount of time as traditional braces with similar cost. "The biggest advantage to teenagers is the look and feel," says Dr. Wells. "There are so many advantages that you wouldn't normally think of," he explains. "Teenagers that play musical instruments like the trumpet or trombone love Invisalign Teen because they do not cause sore lips like traditional metal braces. Little comforts like healthy lips make a big difference to kids," says Wells.
Another factor to consider is that Invisalign trays may be removed for eating or cleaning. Patients that use Invisalign can enjoy any type of food because the trays may be removed before a meal. With traditional braces, you have to avoid food that might get stuck or damage metal braces.
Invisalign devices may also be removed before playing sports which helps reduce injury to the mouth from accidental falls or blows to the face.
"Invisalign Teen helps with the social stigma that traditional braces carry and helps our patients feel good about their smile," says Dr. Wells.
Teens that go through the Invisalign process at South Charlotte Dentistry also receive a free whitener and retainer at the end of the treatment cycle.
About South Charlotte Dentistry
South Charlotte Dentistry is located in the Ballantyne area of Charlotte NC and offers their patients a friendly, laid back atmosphere. Dr. Wells has been practicing dentistry since 1997. South Charlotte Dentistry offers family services as well as cosmetic dentistry. "We are invested in the Ballantyne area and enjoy our close relationships with clients in our community. " says Dr. Wells. "Invisalign Teen is a great addition to our services because everyone wants to look good even when straightening their teeth."
South Charlotte Dentistry is located at 7741 Ballantyne Commons Pkwy Ste 102 Charlotte, NC 28227 or visit their website at http://www.southcharlottedentistry.com. They offer new patient specials and pride themselves on short wait times.