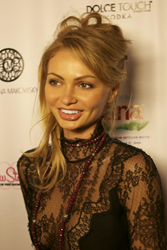 Hollywood, CA (PRWEB) July 29, 2014
Today Gia Skova is all grown up and one of Hollywood's most recognized up-and-coming actresses.
She was only 4 years old when her life changed forever in a terrible car accident. Another car hit them head-on, their car tumbled over and over down a hill and she was thrown to safety. Her mother was killed instantly. Her father could not bear to look at his child because she reminded him too much of his beautiful dead wife. He abandoned the young girl and walked out of her life.
Left an orphan, Gia Skova was raised by others who took her in and shuttled her between various families. Though she was treated with kindness, the loss of her parents made her feel that she didn't fit in anywhere and needed to make her own way in life. That loneliness resulted in a childhood determination that she would become a great actress. And once she saw her first American film, Gia decided her future was in Hollywood.
At 11, young Gia began stashing away all the money she could save in a rooster piggy bank for her trip to Hollywood. The following year she was discovered by a talent agent and became a teen model. She quickly caught the attention of some of Russia's largest retailers who began using her in their print ads and eventually broadcast commercials. Gia modeled throughout Europe and Asia and has been a cover girl for international fashion and film magazines.
Despite her fame as a model, Gia never gave up on her dream to come to America. She starred on the Moscow stage in several plays and then came to the United States in 2012. She first visited Los Angeles where her film career began. Since then she has traveled the world, making films and continuing her modeling career. Her quick rise in such a short time here has been nothing short of legendary, becoming one of the hottest items on social media and having booked 6 films in the last few months.
This week Gia has returned to Hollywood where Brett Ratner (Hercules) has said of her, "She can play many different characters and has a great look." James Wan (Fast & Furious 7) adds, "I can see her as a hot and sexy action babe. Gia has an awesome look and style."
Gia Skova is an unforgettable beauty, is exceptionally photogenic and draws attention anywhere she goes.
See Gia Skova on Gia Skova on IMDB.
Connect with Gia Skova on Gia Skova on Facebook and Gia Skova on Twitter.