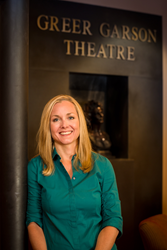 Today, students entering the performing arts must be armed with a broad, malleable skillset as they develop work across the greater entertainment industry.
(PRWEB) July 28, 2014
Laura Fine Hawkes, an award-winning scenic designer and art director, has been appointed chair of the Santa Fe University of Art and Design (SFUAD) Performing Arts Department. Fine Hawkes, an alumna of the university, replaces longtime department chair John Weckesser, who retired in fall 2013 after several decades on campus mentoring aspiring theatre majors.
Fine Hawkes has a broad range of expertise in scenic design and art direction for theatre, opera, musical theatre, themed visitor experiences, museum exhibits, events and television programming. Her scenic design is featured in Arizona Opera's production of Eugene Onegin, opening in January. Fine Hawkes designed the Air Force One Discovery Center, which won a Thea Award from the Themed Entertainment Association and is located in the Air Force One Pavilion of the Ronald Reagan Presidential Library and Museum in Simi Valley, California. She also served as art director for 24 Hours of Reality: Cost of Carbon, a live-streamed multimedia show produced by Al Gore's Climate Reality Project.
"I am thrilled to welcome Laura Fine Hawkes in her new role as chair of the SFUAD Performing Arts Department," said Larry Hinz, president of SFUAD. "Laura previously served as a contributing faculty member at SFUAD, bringing with her a wealth of industry experience that includes working on large-scale live shows around the country, as well as television programming for NBC, Bravo, Comedy Central, PBS and other networks. I am confident that Laura's professional experience and her passion for education and our university will inspire both the program and its students."
Fine Hawkes has held design engagements with Center Theatre Group at The Mark Taper Forum, Theatre Under the Stars, Houston Grand Opera's HGOco, Stages Repertory Theatre, Houston Shakespeare Festival, Big League Productions, Geffen Playhouse, among many other venues. She also worked on a short film within Cirque du Soleil's production of Iris at the Kodak Theatre, and was a former assistant to the late Broadway scenic designer David Mitchell.
"I am excited to join SFUAD as chair of the Performing Arts Department, where as an alumna, I hold deep roots," said Fine Hawkes. "I look forward to further enriching the department's legacy by addressing technological innovations as they apply to theatre and broader explorations of storytelling. Today, students entering the performing arts must be armed with a broad, malleable skillset as they develop work across the greater entertainment industry. Whether through acting, dance, musical theatre or production tracks for designers and technicians, it is important for performing arts majors to take a disciplined approach to core training that affords them a variety of multi-platform career opportunities upon graduation."
Fine Hawkes frequently works with academic institutions and young artist training programs as a guest designer and guest faculty member in scenic design. In addition to her previous contributing faculty role at SFUAD, she has worked for the Shepherd School of Music at Rice University, the Opera Institute at Cal State University Long Beach, San Francisco Opera's Merola Opera Program, UCLA Opera, and Cal State Los Angeles.
Fine Hawkes holds a BFA in Theatre from the College of Santa Fe (now Santa Fe University of Art and Design) and an MFA in Scenic Design from UCLA.
About SFUAD's Performing Arts Department:
The Performing Arts Department at Santa Fe University of Art and Design introduces students to all facets of stage production, giving them the opportunity to perform, design and build sets, develop and produce costumes, devise and execute lighting schemes, and create and stage sound effects. Because of this strong foundation, SFUAD theatre graduates are known and respected around the country for their knowledge and professionalism. Each year, the department produces a mainstage season consisting of several plays, a musical, and dance concerts in the Greer Garson Theatre, a proscenium-style venue dedicated to the late actress, who is remembered for her philanthropy and distinguished career on the stage and screen. The department also runs a simultaneous studio season in its black box theatre dedicated to former longtime chair John Weckesser.
About Santa Fe University of Art and Design:
Santa Fe University of Art and Design is an accredited institution located in Santa Fe, New Mexico, one of the world's leading centers for art and design. The university offers degrees in arts management, contemporary music, creative writing, digital arts, graphic design, film, performing arts, photography and studio art. Faculty members are practicing artists who teach students in small groups, following a unique interdisciplinary curriculum that combines hands-on experience with core theory and prepares graduates to become well-rounded, creative, problem-solving professionals. As a Laureate International Universities Center of Excellence in Art, Architecture and Design, the university boasts an international student body and opportunities to study abroad, encouraging students to develop a global perspective on the arts. Santa Fe University of Art and Design is accredited by The Higher Learning Commission and a member of the North Central Association, http://www.ncahlc.org.