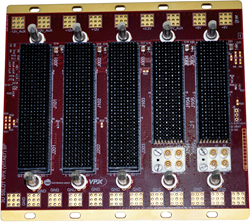 The VITA 67 VPX backplane described above is just the tip of the iceberg.
Hauppauge, NY (PRWEB) July 29, 2014
Hauppauge, New York, USA, July 29, 2014: The Orbit Electronics Group has announced that its VME-VPX portal, http://www.vmevpx.com, has established the company as a leading source of best-of-breed, more affordable backplanes, with eleven different COTS models in 6U and 3U form factors. Two to 21 Slots are standard, and virtually any custom performance configuration can be provided.
For example, Orbit VITA 67 VPX 3U high-density backplanes are used for the latest embedded computing applications. The VITA 67 architecture enables coaxial/RF interconnects directly to the backplane and to the cards that interface the backplane. As with all Orbit VPX backplanes, the VITA 67 backplane enables the use of high-speed serial switch fabric technologies such as Ethernet PCI Express, Serial RapidIO, and others. It can be produced in 3U, 6U, or virtually any other configuration needed.
Features of the Orbit VITA 67 VPX backplane include:
VITA 46.0 baseline; supports VITA 46.4 Full Mesh X4 PCI Express and VITA 46.10 with RTM connectors; 3U, 5 Slot, Full Mesh configuration with 6U variants available; M3 Power Taps, PCB size 128.7 mm x 145.41 mm x 3.92 mm; 14 PCB Layers; 5 HP from slot to slot (25.4 mm); Backplane Connectors with MULTI-GIGRT-2J; flexible keying and alignment mechanism; JTAG connector on all slots; Geographical address pins; Battery backup option set by Jumper J106; VBAT external or connected to 3.3 AUX; Power is VS1 = 12 V, VS2 = 3.3 V, VS3 = 5 V; Operating temperatures of -40° to +185°F (-40° to +85°C); and Storage temperatures of -40° to +185°F (-40° to +85°C).
According to Ken Ice, President of Orbit Electronics Group, "We are committed to providing superb VME and VPX products for virtually any application, and making them more affordable than ever before. Engineering managers and design engineers are invited to challenge us and be surprised. The VITA 67 VPX backplane described above is just the tip of the iceberg."
More than 135 different standard and customized VME-VPX components, products, and options can be seen at http://www.vmevpx.com. These include Backplanes, System Health Monitors, Components, Air Transport Racks, Rear Transition Modules, Sensors, and the industry-leading Behlman VPXtra™ and VME Power Supplies. All are easily sorted via this website's advanced database, searchable by Product Type, Form Factors, Interfaces, Rack Units, Number of Slots, Series, and more.
Vmevpx.com is the brainchild of the Orbit Electronics Group, consisting of Integrated Combat Systems (ICS), Tulip Development Laboratory Inc. (TDL), and Orbit Instrument (OI).
All three companies are divisions or subsidiaries of Orbit International. They work closely with Behlman Electronics of the Orbit Power Group, the designer and manufacturer of the record-setting VPXtra™ and VME power supplies. Working together under the Orbit Electronics Group aegis, they represent not only technological excellence, but a clear competitive advantage for customers. Working in synergy to deliver ultra-rugged HMI devices, displays, sophisticated subsystems, software solutions, systems integration, power systems and a broad line of VME and VPX solutions, Orbit can assure every customer an unmatched range of superior options, for the best, cost-effective solution for each operational challenge.
Orbit International Corp., based in Hauppauge, New York, is involved in the manufacture of customized electronic components and subsystems for military and nonmilitary government applications.
For more information contact VME-VPX, 401 Industry Road, Suite 600, Louisville, KY 40208, USA; TEL: 1- 866-319-8085; info(at)vmevpx(dot)com or visit http://www.vmevpx.com.