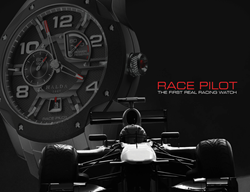 You have created something very special in the good 'socials' and social good that you manage to forge together into one alloy....
Southborough, MA (PRWEB) August 16, 2014
Guardian Angel Motorsports (GAM) drivers hit the pavement at Monticello Motor Club for a charity weekend of high performance driving in June, 2014 to raise money for a young girl that can't speak.
It was a smashing success raising over $110,000.
Monticello Motor Club donated a family membership valued at over $125,000. The club is a core support of the Guardian Angel Motorsports cause and widely regarded as the "Augusta" of private driving clubs with some of the most sought after pavement in the driving enthusiast & manufacturer circles.
John Gugliada with Halda Watch Company donated the $18,000 Formula One Pilot watch for GAM to auction. Halda Watch Co is the official partner to F1-driver Marcus Ericsson in the Caterham Team. According to Marcus, the Race Pilot has already attracted a lot of attention in the pits indicating the technicians, engineers and even other drivers share the passion for state of the art technology with the highest degree of precision.
GAM was introduced to Gugliada & HALDA thru another event sponsor Performance Flight. Owned by Lewis Leibert, Performance Flight is the nation's largest training, maintenance and management facility of Cirrus aircraft operating out of Westchester County Airport in New York. Performance Flight has donated 6 private flight lessons to the charity auction to benefit Naomii as well.
"Charity efforts have always been the core of the Performance Flight business plan," says Liebert. "Last year we raised $10,000 for GAM thru our Day of Adrenaline hanger tour. It was an easy decision to introduce our strategic partner HALDA to the cause."
Naomi is a 13-year-old girl with Rett Syndrome. She enjoys many activities like bowling attending after school art classes just to name a few. Rett syndrome robs girls of a normal life. She is 100 percent dependent on her mom and dad. She can not feed, dress and toilet herself or speak.
We harness the power and excitement of motorsports to raise awareness for child-related causes. In the past several years combined we've donated over $360,000 to children's charities. That amount wasn't just raised—it was donated. Which we're very proud of. But we want to give much, much more. We realize that to give more, we need to grow more.
Guardian Angel Motorsports has a 501c3 tax exempt nonprofit status with the IRS. We want to grow our efforts and donate money to both charities and individuals that are in need.