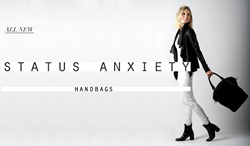 They stand out in the fashion-forward accessory world - Ania Kuskowski
Montreal, Quebec (PRWEB) July 28, 2014
Pursebox.ca, Canada's online purse destination for the trend-conscious, is the first to sell Status Anxiety handbags online in Canada, making them available to all Canadians nationwide.
"Status Anxiety combines contemporary design, quality leather, and minimalist-but-edgy detailing with competitive pricing. Its products really stand out in the fashion-forward accessories world. Many new contemporary handbag brands (such as Ela, Geometry) are also beginning to fill this void in the market," explains Ania Kuskowski, owner. "We absolutely love everything about Status Anxiety, from the purses' sought-after but elusive combination of edginess and class, to the quality that the brand stands for. We're sure our clients will too."
"Canadian consumers who don't want generic purses have trouble finding products that have both spice and taste. Pursebox's mission is to bring them exciting new styles and brands that will give them the options they're missing," Kuskowski adds.
The new styles from Status Anxiety purses are shipping from http://www.pursebox.ca.