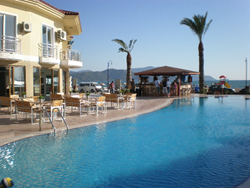 Regular flights to Turkey increases the attraction of a holiday home rental.
(PRWEB UK) 29 July 2014
And the Turkish and London-based estate agents are expected a similar rise with the opening of the brand new Ankara to Istanbul high speed rail link on July 25.
International flight operators BA introduced six new routes to Europe from Gatwick Airport a few months ago - two of which were to Turkey. It means that since April the company have been flying to Bodrum twice a week on Monday and Thursday while four flights a week head for Dalaman on the Turquoise Coast on a Monday, Wednesday, Thursday and Saturday. Prices to both destinations start at just £69 one way.
Oceanwide Properties MD Suleyman Akbay said, "The additional flights make it even easier for those from the UK to come to Turkey and which has obviously had an impact on those who were attracted to investing in Turkey property out here but were perhaps hesitant. Expanding the flight provision has been the prod they needed to confirm that a holiday home would be a move in the right direction and somewhere they would indeed benefit from.
"Of course flights to Turkey on a far more regular basis also increases the chances of renting out a holiday home."
Meanwhile, it is not just air travel that's benefiting visitors to Turkey at the moment. Earlier this month the Turkish government declared the opening of a new 500 kilometre high speed rail link between Ankara and Istanbul. The infrastructure boost will reducing journey times between the two cities by almost three hours from six hours at present to just three and a half. Trains will travel at an impressive 155 mph.
The route passes under the Bosphorus and provides a link-up between Asia and Europe. It's all part of the prime minister's plans to make Turkey more economically viable for business by improving the infrastructure of the country. Last year he dedicated 1.8 billion Turkish lira to high-speed rail routes.
Istanbul is already becoming the 'go to' destination in Turkey and is particularly attractive to companies looking to operate in both European and Asian markets thanks to its ideally placed location. Meanwhile there are plans for the world's largest airport to be built near the city, marking its place as a central hub between the two powerful continents.
House prices in Istanbul have risen in recent months with more than 1500 city apartments or houses snapped up by foreign investors between January and April this year.
Those interested in investing in Turkey property in Istanbul can contact Turkish estate agents Oceanwide Properties Turkey. They have an office in the colourful city as well as outlets in Mediterranean coastal areas such as Feithiye, Kalkan, Antalya and Side.
For more information see the company's website at OceanwideProperties.co.uk where visitors can find a number of Turkey property listed valued at from £60,000 up to £2 million.