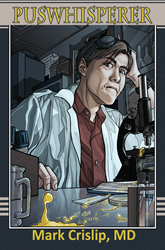 Bow down to your bacterial overlords
Pasadena, CA (PRWEB) July 28, 2014
Mark Crislip, MD has been practicing Infectious Disease (ID) for over 23 years in the Pacific Northwest. Inspired by all that microbes had to offer, from beer and waffles to fever and death, he started a Medscape blog to share his most interesting cases with the world. He has now expanded beyond blogging to a multimedia site, Pusware. One of the results of his efforts is "Puswhisperer," an edited collection of a full year of blog posts to appear in print and electronic format from Bitingduck Press in November 2014. "Puswhisperer" is now available in pre-release galley format from NetGalley or by direct request from the publisher.
Infectious disease extends beyond medicine and into all facets of the human condition: history, politics, archaeology, relationships, global warming, and more. Many of Dr. Crislip's tales show how diseases once considered sub-tropical are beginning to appear in Oregon: coccidioidomycosis, or "San Joaquin Valley Fever"; Cryptococcus; and Legionnaire's disease. He discusses what the Earth will look like as the sun expands and animal and plant life all disappear, giving way to a microbial landscape. He also has a number of pearls for a more specialist audience, giving diagnostic and therapeutic tips that might just show up on a Board exam.
Crislip doesn't mince words when it comes to alternative medicine, which he calls "Supplements, Complementary and Alternative Medicine (SCAMs)." His harshest criticism is reserved for the anti-vaccine activists—and for those simply too lazy to get an annual flu shot. He also takes to task a variety of naturopaths and their questionable techniques such as "live blood analysis," which Crislip demonstrates is incapable of diagnosing bacterial infections. These essays complement Dr. Crislip's Quackcast podcasts, which have won the People's Choice Awards for Health and Fitness podcasts three times (2009, 2010, and 2011).
"Puswhisperer" is divided into 18 sections, arranged by topic. Subjects include specific organisms (Strep, Staph, the flu) and general classes such as "Fungi," "Exotica" (unusual organisms), or "In One End/Out the Other" (foodborne and enteric infections). Other sections deal more generally with Quacks, Evolution, or Diagnostic Hints. One of the most unique and clinically relevant sections is "Le Terrain Est Tout," a series of anecdotes on host factors in infection. Named for a quote from Louis Pasteur, roughly translated as "The microbe is nothing, the terrain is everything," this section illustrates how host variations from the obvious (HIV infection) to the not-so-obvious (Down syndrome) affect susceptibility and response to infections.
"Puswhisperer" has been edited for a lay audience. It will be available November 3, 2014 in paperback and all electronic formats, DRM-free. A full-service publisher handling both fiction and non-fiction, Bitingduck specializes in books with science or nerd themes. Upcoming catalogs will feature young adult titles (2014) and hard sci-fi (2015). Submissions in all genres are welcome, particularly nonfiction; the submissions guidelines are found on the publisher site.