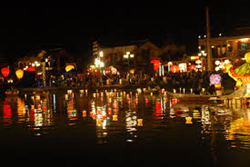 Hanoi, Vietnam (PRWEB) July 28, 2014
Smile Travel Vietnam is known as one of the leading travel agencies in Vietnam. Last Friday, the "Autumn promotion 2014" was launched by Smile Travel Vietnam agency.
Accordingly, customers will get a discount of 20% if they book a tour to Hoi An town or Hanoi city. The Chief Executive of Smile Travel Vietnam shared: "Vietnam's Mid-Autumn Moon Festival takes place on 15th of the Lunar August. It is the most charming and picturesque night of the year." One important event before and during Vietnamese Mid-Autumn Festival is lion dancing. Both non-professional and professional children groups perform dances on the streets or go to houses.
Additionally, lucky customers may receive nice gifts from the agency if they book tours along with air tickets. Specially, the customers do not have to worry about Vietnam visa on arrival if they book above tours in a group of 4.Smile Travel Vietnam provides Vietnam visas on arrival without any fee.
For further details, please contact sales(at)smiletravelvietnam.com or call +84 988 580 614.
About Smile Travel Vietnam:
Smile Travel Vietnam has grown to be recognized as one of the leading travel agencies in Vietnam. Since 2008, the agency has been providing high quality and professional tourism services such as Vietnam visas, airfares, and tour packages.