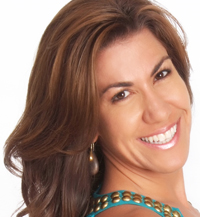 'All of my six-figure-plus launches and my seven-figure business come back to either a free preview call or webinar,' Sasevich said. 'It's the easiest, fastest, least expensive way to get those big 6-figure paydays!'
San Diego, CA (PRWEB) July 28, 2014
Queen of Sales Conversion Lisa Sasevich has long considered free teleseminars and webinars a powerful secret weapon for business success. The secret is out, and she is sharing her favorite tips and techniques – and those of several guest experts – on a brand new, complimentary live-stream training, "Set Yourself Free with Teleseminars and Webinars." The training is scheduled for Thursday, July 31, 2014, from 1 pm to 5 pm PST.
"Imagine making 6 figures or more with your knowledge, expertise and experience and doing it in a way that feels authentic to you and the lifestyle you became an entrepreneur for," Sasevich said. "Forget trying to keep up with all the techie and ever-changing details of video, social networking, Google Hangouts and all those other 'sexy' marketing tactics. You can still make big money using the tools you already have – your telephone and your computer!"
For her "Set Yourself Free with Teleseminars and Webinars" live-stream, Sasevich is bringing together several industry experts like Milana Leshinsky, Rich German, Callan Rush, Debra Berndt, Kevin Thompson, and Jeanna Gabellini, and they're sharing their best tips and advice for getting the most out of teleseminars and webinars.
Attendees learn how to:

Fill their teleseminars and webinars with their ideal prospective clients
Effectively build their list community by speaking online and offline
Inspire prospective clients to say yes on the spot … without being "salesy" or pushy
Inspire affiliates and joint venture partners to promote your teleseminar or webinar
Automate teleseminars and webinars so the process works for the entrepreneur while he or she sleeps
And more
"All of my six-figure-plus launches and my seven-figure business come back to either a free preview call or webinar," Sasevich said. "It's the easiest, fastest, least expensive way to get those big 6-figure paydays!"
Heart-centered entrepreneurs can sign up here to join Sasevich for her complimentary live-stream training,"Set Yourself Free with Teleseminars and Webinars": http://www.6FigureLaunches.com/livestream.
Recently honored as one of America's Top Women Mentoring Leaders by WoW magazine, Lisa Sasevich, "The Queen of Sales Conversion," teaches experts who are making a difference how to get their message out and enjoy massive results, without being "salesy."
Recognized sales expert by Success Magazine and as one of America's fastest growing independently owned companies for the second consecutive year by Inc. Magazine, Lisa delivers high-impact sales-closing strategies for turbo-charging entrepreneurs and small business owners to great profits. According to best-selling author Brian Tracy, "Lisa Sasevich is one of the greatest discoveries in America today!"
After 25 years of winning top sales awards and training senior executives at companies like Pfizer and Hewlett-Packard, she left corporate America and put her skills to test as an entrepreneur. And in just a few short years, Lisa created a multi-million-dollar home-based business with 2 toddlers in tow. Lisa is the undisputed expert on how to make BIG money doing what you love.
For more information about Sasevich and The Invisible Close, visit http://www.LisaSasevich.com.