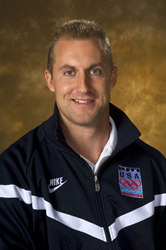 'By partnering with GSD as a Champion Ambassador I am able to connect with even more kids and teens to teach them about life and sport lessons, as well as bobsledding.' - Curt Tomasevicz
Los Angeles, CA (PRWEB) July 28, 2014
The Foundation for Global Sports Development (GSD) has greatly increased their ability to impact and inspire youth by welcoming Olympians, Curtis Tomasevicz, and Julie Chu, to their growing team of champion ambassadors. Tomasevicz, a USA Bobsled athlete and three-time Olympic competitor, and Chu, a USA Hockey athlete who has competed in four Olympic Games, are both actively involved in promoting the benefits of sport.
"I have witnessed first-hand the incredible impact athletes can have on youth, especially those who are underserved and inevitably, most vulnerable," said Dr. Steven Ungerleider. "This has been the driving force behind why we continue to grow our family of champion ambassadors and connect them with opportunities to inspire youth."
GSD's champion ambassadors are an essential component to their youth programming and outreach efforts. In addition to mentorship opportunities, champion ambassadors further support GSD's mission by speaking at meaningful events and summits, participating in podcasts available to youth worldwide, and sharing inspiring messages through blogs and video interviews.
"Reaching out to young people in a positive way is important to me," said Curtis Tomasevicz. "By partnering with GSD as a Champion Ambassador I am able to connect with even more kids and teens to teach them about life and sport lessons, as well as bobsledding."
GSD is dedicated to identifying and enacting new approaches that target and benefit disadvantaged youth from around the world. For further details on GSD and a complete list of their champion ambassador team, please visit GSD's website at http://www.globalsportsdevelopment.org.
About Global Sports Development
Working closely with international sports federations, generous donors and committed athletes, The Foundation for Global Sports Development promotes sportsmanship, education, fair play and ethics among the world's youth. The Foundation gives special emphasis to groups and communities that are most in need or most underserved by current programs, including women, minorities and youth in areas where the risk of delinquency is particularly high. Visit http://www.globalsportsdevelopment.org to learn more.