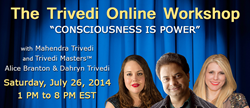 Las Vegas, Nevada (PRWEB) July 28, 2014
Mahendra Trivedi, accompanied by Trivedi Masters™ Alice Branton and Dahryn Trivedi, hosted the Trivedi Online Workshop 'Consciousness is Power' on July 26, 2014 from 1 PM to 8 PM (EST). During this workshop, participants from all over the world received profound knowledge and understanding on the importance of making a deeper connection to their inner guidance system.
On this one day online workshop, the participants explored the various advantages of raising consciousness and thus, enjoying the abundance in all areas. They also got an opportunity to hear an insightful discourse on the importance of higher consciousness and the difference it makes in the life of individuals. They also got a chance to understand how they can bring the Grace of God in their life with the help of The Trivedi Effect®.
The Trivedi Effect® as it is known, is a unique phenomenon of transforming living and non-living organisms, through transmissions of universal positive energy through the power of thoughts. This phenomenon was introduced for the first time by Mahendra Trivedi, who possesses an incredible power to transmit energy through his thoughts.
Mahendra Trivedi, also known as the Master of Transformation, has provided his Energy Transmissions to more than 200,000 people till now. Many of these people have experienced immense positive changes in their life, health, relationships, confidence, outlook towards life and their overall well-being. They have reported refreshing sleep, enhanced potential to perform in all walks of their lives and a profound happiness.
In 2009, Mahendra Trivedi established the non-profit organization, Trivedi Foundation™, to improve the quality of human life on this planet by utilizing The Trivedi Effect®.
Mahendra Trivedi and Trivedi Masters™ Dahryn Trivedi, Gopal Nayak and Alice Branton possess the ability of harnessing an unknown phenomenon from the Universe to optimize human potential. This phenomenon brings incredible transformations in the lives of people by raising the level of their consciousness.
Mahendra Trivedi has proven the authenticity and transformational capabilities of The Trivedi Effect® within the arena of science, by transforming and optimizing living and non-living materials. He has a record of more than 4,000 experiments performed in reputable scientific laboratories, resulting in more than one dozen research publications in international, peer-reviewed, scientific journals. For more information, one can visit http://www.trivediscience.com/
Magnificent changes have occurred in the lives of people after the Energy Transmissions, and they have reported enjoying profound and transformational benefits of Energy Transmissions through Trivedi Master Wellness™ programs. They have also reported to have experienced a reduction in their stress level, fatigue, fear and anxiety, and are now living a peaceful, contented and healthy life.
About Trivedi Master Wellness™: Mahendra Trivedi has the unique ability to create The Trivedi Effect® and has the scientific evidence to prove it. This phenomenon of Energy Transmission has been tested in over 4,000 experiments conducted using stringent methodologies and the most advanced technologies available on this planet. Many results have been published in leading international, peer-reviewed, scientific journals. Each experiment shows significant transformation with consistent results. The resulting changes show that this energy has the amazing ability to improve the functionality and potential of an individual. Trivedi Master Wellness™ established in 2011 is intended to provide the benefits of The Trivedi Effect® to optimize human potential throughout the world.
Websites: http://www.trivedimasterwellness.com/ , http://www.trivedieffect.com/ , http://trivedifoundation.org/, http://trivediproducts.com/
Call us on: +1-877-493-4092
For inquiries please mail us at: cs(at)trivedieffect(dot)com