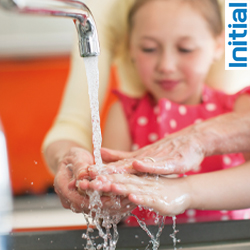 Contaminated hands can transfer germs to up to seven separate surfaces, and germs can also live on a surface for up to 48 hours. High-traffic environments such as a schools can become a breeding ground for germs, causing illness in the classroom.
Cape Town, South Africa (PRWEB UK) 30 July 2014
A Hand Hygiene Survey conducted in May 2014 by Neylon Maintenance services at a school in Ireland confirmed that while most teenagers think they know how to wash their hands, many of them don't have a clue. The survey asked 100 sixteen year-old students to take part in a simple hand washing test, and although they all claimed to know the correct method of hand washing, when their hands were examined under UV lights, there was a 100% failure rate.
Almost three-quarters of the students admitted to not washing their hands before eating lunch and two-thirds said they didn't clean their hands after PE or sports activities. Over half of the students didn't wash their hands after coughing, sneezing or blowing their nose, while 86% didn't wash their hands after handling money!
Because contaminated hands can transfer germs to up to seven separate surfaces, and germs can also live on a surface for up to 48 hours, high-traffic environments such as a schools can quickly become a breeding ground for germs, causing widespread illness in the classroom. According to the Basic Education Minister ("SA teachers set absentee record", 26 Feb 2013), South Africa has the highest rate of teacher absenteeism in the SADC, reportedly on average 19 days per teacher per year. Absent teachers cause disruption and are costly to replace on a temporary basis, and sick pupils can miss vital lessons and exams. Good hand hygiene is therefore vital to decreasing absenteeism and creating a dynamic learning environment.
With this in mind, the Initial team has revised their Basic Hygiene Talk - normally provided as an added benefit to existing corporate clients - to be more interactive and age appropriate for the learners at schools serviced by Initial. The aim of the basic hygiene talk, which is offered free of charge, is to increase student and teacher awareness of basic hand hygiene principles such as hand washing. Talks are delivered by the Initial Sales team and are supported with laminated posters for all bathrooms, outlining the basic principles of hand hygiene to act as a constant reminder to both student and teachers of the importance of hand hygiene.
About Initial Hygiene Services:
Initial Hygiene is one of the leading hygiene solutions companies in South Africa. It provides innovative and environmentally responsible bathroom hygiene services solutions to large and small organisations across a range of business sectors including public administrations and schools, food and drink manufacturing, hospitality and leisure, medical and paramedical, construction, retail, services and transportation.
The range of Initial's Bathroom Hygiene services and supplies includes:

Hand washing and hand drying products and services
Feminine hygiene sanitary bins and sanitary waste disposal services
Bathroom hygiene products which include urinal, toilet hygiene and deep cleaning services
For a more information Initial's Basic Hygiene talks and hand hygiene services, or to arrange for a free hygiene services survey of your business, contact Rentokil Initial on 0800 77 77 88 or visit Initial's website.
About Rentokil-Initial: The Rentokil Initial group specialise in pest control, hygiene services and interior landscaping for businesses across the globe. Using leading-edge, environmentally-friendly technology, their experts deliver a wide range of tailored services to businesses of all kinds. Rentokil Initial South Africa has operations in all major business centres across the country.