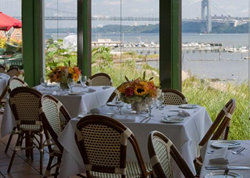 The Aluminum Bamboo Patio Chair is one of the most popular outdoor chairs
Edgewater, NJ (PRWEB) July 28, 2014
Leading commercial furniture distributor, Restaurant Furniture Supply recently teamed up with Le Jardin, a French restaurant in Edgewater, New Jersey to provide them with new patio seating.
Le Jardin serves fine, French continental cuisine, in a breathtaking riverside setting with stunning views of the Manhattan Skyline and the George Washington Bridge. The restaurant offers a variety of serene atmospheres from its enclosed terrace, to the outdoor garden, along with its intimate fireplace and stunning views. During summer hours Le Jardin entertains Martini night, every Tuesday evening, featuring a live jazz trio. They are open for lunch and dinner, seven days a week throughout the year.
The new executive chef Franco Gilaga Chef Franco recently joined the Le Jardin Team with over 30 years of culinary experience. His most prior accomplishment was at Il Villaggio for 17 years as Executive Chef. His passion for food & culinary excellence has taken him to Belgium, Italy, France New York & Chicago.
The lunch menu includes entrees such as broiled salmon, chicken le jardin, medallion de veau, and steak au poivre and organic French Chicken. They also offer sandwiches such as sliced steak with pepper jack cheese, grilled chicken breast, lamb sausage and confit onion and Merqueze sandwich. Lunch is also served with soup or salad. The dinner menu include French classic dishes such as Poulet a Parisienne, cote de veau, veal Milanese, braised lamb, Chateaubriand. The dinner menu also includes seafood entrees such as red snapper bouillabaisse, salmon a la Dijonnaise and lobster le jardin.
The owner contacted Restaurant Furniture Supply to buy new patio furniture. He chose Restaurant Furniture Supply because of their reputation as a valued manufacturer of high quality commercial furniture and competitive prices.
For new seating the owner decided to go with Restaurant Furniture Supply's Aluminum Bamboo Patio Chair. The commercial grade chair is made of faux bamboo and is great for patio dining or for use indoors. The chair is made using a double tube aluminum frame and is durable. It is a great choice for any restaurant, bar or any dining location. The Aluminum Bamboo Patio Chair is currently on sale for $55 at Restaurant Furniture Supply.
"The Aluminum Bamboo Patio Chair is one of the most popular outdoor chairs," explained Zach, salesperson for Restaurant Furniture Supply. "They are very attractive comfortable and durable. They are ideal for patio seating and also look great indoors, making it a very versatile chair."
Browse Restaurant Furniture Supply's full selection of commercial grade chairs, bar stools, table tops, table bases, booths and patio furniture at http://www.restaurantfurnituresupply.com/ or talk to a customer service representative at (888) 346-9992.
Le Jardin is located at 1257 River Road in Edgewater, NJ. They can be contacted at (201) 224-9898.