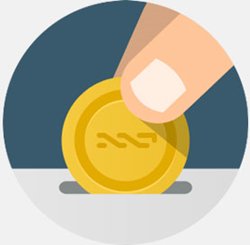 Limassol. Cyprus (PRWEB) July 30, 2014
The new initiative will allow merchants to accept NXT and other virtual currencies as payment on their online stores and easily exchange it for fiat money.
MoneyPayment.com is now ready to implement NXT into its payment system within a month. The business idea is to become a major payment processor of the cryptocurrency, similar to Bitpay and Coinbase. MoneyPayment.com plans to rapidly expand in Europe and launch their business in the US next year. Currently, MoneyPayment.com is planning to target following countries: Germany, the United Kingdom, Netherlands and eventually the whole Europe.
The key product of the MoneyPayment.com will be the payment gateway, which would allow
merchants to accept NXT tokens as payments and swap this digital currency for fiat money. Potential clients are all online businesses, which would like to accept NXT coins as a method of payment. In exchange online merchants will receive an opportunity to minimize risks associated with chargebacks and receive fiat currency payouts almost instantaneously and we will take all the risks associated with NXT exchange rate fluctuations.
What is Nxt?
Nxt is a top second-generation cryptocurrency. Its advanced features transform a cryptocurrency into
a decentralized financial platform. Nxt already supports assets and decentralized asset exchange with built in Multigateway. The Nxt Multigateway allows to move cryptocurrencies in and out of the Nxt Asset Exchange. The peer-to-peer exchange built into the Nxt software brings decentralized trading with no trading fees. This system allows trading any currencies, assets or stocks, without a middleman.
How to Start With Nxt?
Users can use Nxt online wallet (http://wallet.mynxt.info/) or install Nxt client. For more info visit
Nxt.org. Nxt coins can be bought at cryptocurrency exchanges (Cryptsy, Bter) or at fiat exchange
platforms (Coinomat, CCEDK). It is also possible to earn Nxt coins by bounties or by selling ad space by using NxtAd.net service.
MoneyPayment.com"Crypto IPO'ed"
The fee for issuing an IPO for MoneyPayment.com assets via Nxt network was only 1000 NXT (40$). And no one could stop it, because cryptocurrencies are supporting the financial freedom. There is no central authority in Nxt platform preventing anyone to issue its own asset. The MoneyPayment.com assets were created via Nxt Asset exchange just in 1 minute, just like any other payment. Only the fee was 40$ in this case. Other payments still cost just 4 cents, so if anyone decides to send 1 billion USD via Nxt network, it still costs only 4 cents and takes 60 seconds for sending it from USA to China. Nobody knows, whether Nxt will replace the Wall Street or not. The crypto currency is still young, it was "born" just 8 months ago. Did anyone speak about Bitcoin or VISA when they were 8 months old?