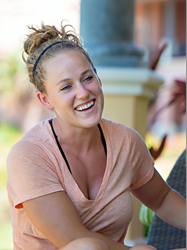 Culinary Getaways in Costa Rica
Atlanta, Georgia (PRWEB) July 29, 2014
Pampering gated communities across the globe have rediscovered an old fashioned way to a retiree's heart - delectable cuisine served at home or in the neighborhood leaving them begging for more. Savory food and days lived in a paradise, that's Costa Rica. Atlanta real estate developers, Gary and Matt Carter saw the trend and have brought organic Chef Megan Davis to Las Ventanas del Mar as their Chef in Residence.
Davis began her culinary training in North Carolina. She trained under Mary Hataway, a renowned American female chef and currently the owner and chef at Soiree Catering in Atlanta. After mastering the skills, Davis ran her own catering business for a few years in Atlanta and then was hired as a private chef for an Atlanta family. She's an experienced gardener and the co-owner of an organic farm. When she speaks about food, you can see her eyes sparkle with a passion for cooking and good health. Her culinary focus is centered on fresh, seasonal and local ingredients. In Costa Rica, she states "the fresh fruits and locally caught seafood are incredibly flavorful".
As the resident chef at Las Ventanas del Mar, Davis masterfully prepares delishness on demand whether its poolside, for private dinners in residents homes, for the community's social gatherings or as part of the community's new culinary educational events. The setting at Las Ventanas del Mar could not be more beautiful! This Guanacaste gated community in Costa Rica is built on a mountain top overlooking the unspoiled Playa Carrillo beach and blue green water reaching the horizon. Relaxing verandas with outdoor seating border the dreamy, infinity edge swimming pool. After an extraordinary meal prepared by Davis, the colorful sunsets and layered mountains seen poolside will burn a memory in your mind you'll never forget.
Last month, Davis invited a guest chef to Las Ventanas del Mar for the community's new Culinary Getaways. Atlanta based Massimo Andreozzi was thrilled with the opportunity to bring a taste of Italy to the neighborhood when he trekked south this past June. Originally a native of Naples, Italy, Andreozzi brings more than a decade of experience tossing and baking traditional Neapolitan pizza to his role as the Fritti head pizzaiolo, where he's a Head Chef now.
Las Ventanas del Mar's Culinary Getaways are a three day foodie experience in one of the most beautiful Guanacaste gated communities Real Estate Scorecard has seen in Central America. Here's what to expect:
CULINARY GETAWAY
3 Days of Hands on Cooking Classes and Demos
Pampering Vacation Centered Around Food Paired with Fine Wines
Relaxing Massages and Local Coffee Plantation Tour
LAS VENTANAS DEL MAR AMENITIES
24 Hour Manned Gated Entrance
9,000 Square Foot Resort-style Infinity Edge Pool and Jacuzzi
Community Gardens Poolside
Two Acre Fresh Water Lake Stocked with Fish
Three Lake Ranchos Entertainment Pavilions with Gas Grills
Two Lighted Tennis Courts
Bocce Ball Court
Outdoor Gym
The sounds of cooing songbirds and howler monkeys reminded the team of how unspoiled Costa Rica remains. In fact, Real Estate Scorecard can state from experience, folks will see more wildlife in Costa Rica than anywhere in Central America. There are two nearby beaches to explore: Playa Carrillo, at the base of Las Ventanas del Mar and Playa Samara. Beach cafes, horseback riding on the beach and street vendors selling local crafts are common to see at Playa Samara. Playa Carrillo is unspoiled and is one of the prettiest walking beaches Real Estate Scorecard had the pleasure of beach combing. Beyond Samara, there are volcanoes to explore and the finest big game fishing in the world.
Often times, people who visit Costa Rica catch 'Pura Vida' fever or a desire for the 'pure life' never wanting to leave. Las Ventanas del Mar makes it easy to obtain a beautiful home. This Guanacaste gated communities offers townhomes, luxury condominiums and single family homes. Not too big, not too small, Las Ventanas del Mar is just the right size master-planned community.
Take a peek at Las Ventanas del Mar homes.
Getting to Las Ventanas del Mar is easy. Liberia International is the closest airport or you can fly into San Jose International. JetBlue recently added service from more than a dozen US cities.
Contact Matt Carter at Las Ventanas del Mar to check on availability for the upcoming Culinary Getaways or to stay on property any time.
Call 404.418.4970
About Real Estate Scorecard:
Real Estate Scorecard writes unbiased real estate reviews providing in-depth information about popular gated communities in Florida, Georgia, North Carolina, South Carolina, and Tennessee, all in an effort to help people discover where to retire in the Southeast.
Website: http://realestatescorecard.com