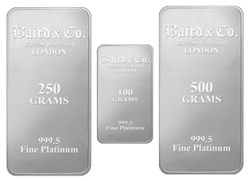 (PRWEB UK) 28 July 2014
The five month long South African miners' strike against mining companies has crippled platinum mining and has finally come to an end with a deal that will see the lowest paid miners receive an increase in pay of R1000 (around £55) a month(1). The strikes have meant that global output of platinum have plummeted, however the demand for the precious metal has surged. Paired together, this is set to cause physical deficit this year.
Although an extremely valuable precious metal, almost half of the total platinum usage is industrial. The major industrial use of platinum is attributed to motor vehicles. Almost all new cars are fitted with autocatalysts which use platinum as part of a structure to clean motor emissions to reduce global pollutant levels. In line with the trend of other precious metals,China predominates demand for platinum. China is rapidly becoming the largest consumer of platinum as China produced 25% of the total vehicle production which accounted for a 33% increase in platinum use in autocatalysts (2). The demand for platinum to be used in autocatalysts is predicted to rise further as 6 million cars are now classed as unroadworthy as they no longer satisfy new emission standards.
Platinum jewellery accounts for almost 25% of global platinum demand of which 65% is due to Chinese demand for bespoke jewellery made in this precious metal (2). India also represents a noteworthy consumer of platinum. The country has seen a year-on-year growth of a minimum of 30% each year which has occured due to the import restrictions on gold bullions and gold sovereigns. As the Indian government has now decided not to relax import taxes, it is likely that demand for platinum will continue to rise.
Western interest in platinum is rising. The majority of platinum comes from just two countries - South Africa and Russia. With the South African miners' wage strikes, the price of platinum is bound to rocket as production costs rise. Rising tensions in Eastern Europe and the possibility of stricter economic sanctions on Russia by the USA and the EU could drive prices even higher.
The leading online UK bullion supplier, Postal Bullion have noted the upward trend in platinum prices and an associated rise in platinum investors. "Whilst sales of platinum have been relatively sluggish in comparison to the boom in demand for gold and silver bullions, a significant increase in platinum investment has been charted. We forecast platinum sales to continue to grow at a healthy rate and expect it to become highly desirable considering the low output of mined platinum this year", says Marcus Allsop, Head of Marketing at Postal Bullion(3). The current circumstances proves to be an ideal time to invest in platinum before platinum prices to spike in response to inevitable increased costs of production and inadequate supply to meet global demand.
(1) http://www.reuters.com/article/2014/06/25/us-safrica-mining-idUSKBN0F00DC20140625
(2) http://therealasset.co.uk/platinum-supply-shock/
(3) http://www.postalbullion.com/blog/south-african-platinum-miners-strike-ends/