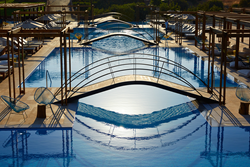 We feel our goal to turn Domes of Elounda into an exclusive destination—the first of its kind in Elounda Crete—is accomplished.
Elounda, Greece (PRWEB UK) 31 July 2014
Domes of Elounda, the luxury beach resort located in Elounda Crete, "unboxed" today 20 newly constructed luxury villas, an 800m2 outdoor swimming pool, a Greek-Mediterranean restaurant, a lounge bar, a delicatessen store and an entertainment center for teenagers. These are the hotel's latest additions to an already impressive offering consisting of 82 suites, 8 private residences, 4 ultraluxe villas, 3 restaurants, 3 bars, a main pool, and a 350m2 spa center – all located along a lovely exotic beach that allows guests to leave all their cares behind.
In what seemed to be a very proud moment for the resort, Mr. George Spanos, the hotel's Vice President, stated the following: "We feel our goal to turn Domes of Elounda into an exclusive destination—the first of its kind in Elounda Crete—is accomplished." With the new facility additions, the boutique beach resort is quickly living up to this claim. All that remains is feedback from the excited clients who walk through the front doors.
Fuelled by customer demand, the 20 luxury villas each come with a large eco-heated 50m2 private pool, a whirlpool and a dazzling waterfall. Guests receive immediate access to the new Mesoyios restaurant, which brings a unique approach to Greek and Mediterranean cuisine with fresh and scrupulously selected topical ingredients and products. Greek and Cretan products can also be found at the Pantopoleion Delicatessen store, which features an "Ergon" deli corner.
The newly-introduced entertainment center for teenagers will definitely be a must-use attraction for all the youngsters, as it offers a fun range of amenities to keep them engaged and social, such as an arcade room, PS4, Wii U, XBOX, a projection room, table football, ping pong and RC cars, complemented by an outdoor amphitheater for concerts, karaoke nights and other events.
"Tour operators and partners are excited about the expansion and our ability to meet the tight deadline set to construct and open the villas," said Mr. Kosta Kanaras, the group's Sales Director. "The whole process of planning, construction and completion was done in under a year and was the quickest build project in Greece of this size," he exclaimed.
With these latest additions, Domes of Elounda now spreads over 1500m2 with walking paths, 4 bars, 4 restaurants, a spa & wellness center, a watersports center, a crèche/kids club, one tennis court and a fitness room. All of the above amenities naturally coincide with mesmerizing views of Spinalonga Island, the genuine Domes hospitality and its traditional local values.
Domes of Elounda indeed has grown to become the ultimate holiday destination.