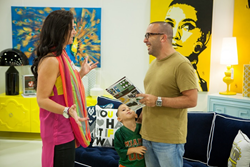 "The growth in South Florida's single-family home market will fuel continued growth in the home improvement industry," said Sharon Berube, spokesperson for the event.
Miami Beach, FL (PRWEB) July 29, 2014
Home Show Management Corp, producer of the Miami Home Design and Remodeling Show, has been bringing consumers of home improvement products and services together with the trade for over forty years. The Labor Day weekend tradition opens to the public Friday, August 29th and continues through Tuesday, September 2 at the Miami Beach Convention Center. Participating exhibitors state that the sales generated at the show are a significant share of their annual business.
According to the Miami Association of Realtors, "Miami real estate sales, particularly for single-family homes, continue to reflect strong demand." New condo construction has slowed the sales of existing condos, but the movement in the single family housing market should continue. "Real estate growth goes hand-in-hand with home improvement spending," said Sharon Berube, spokesperson for the Show. "So, the strength of the single-family home market should continue to fuel growth in home improvement spending."
Recently the National Association of the Remodeling Industry reported significant increases in both home improvement bid requests (up 6.29% )nationally and sales conversions( up 5.83%). Businesses exhibiting in the Labor Day Weekend show hope to match those national gains with strong sales during and following the event. "If tradition holds true, "said Berube, "they will!"
About the Home Show:
Each Labor Day weekend, the Miami Beach Convention Center is transformed into a one-stop, interactive marketplace featuring thousands of products for home improvement, remodeling, interior design updates, outdoor improvements and enhanced South Florida lifestyles. In addition to a wide range of products on display, the show offers consumers the opportunity to talk one-on-one with professionals. Special show pricing offered throughout the five day event is an added incentive.
The show will also offer attendees entertaining activities at the event including complimentary seminars by industry experts on a variety of home improvement projects,. The Home Improvement Stage will feature tv lifestyle and design expert Jennifer Farrell who is currently featured on the Emmy-nominated series Home Made Simple (Oprah Winfrey Network). Jennifer will share top ten design tips for kitchen and bath remodeling, and offer special insight for condo owners on best practices for compact living. In addition to seminars the show features the "Artist Encounter" art show, featuring pop artist Stephen Gamson, daily cooking shows with guest chefs from around South Florida, original designer room settings by professional members of the interior design community, wine tastings and more.
Show hours: Friday (8/29) 6:00 pm-10:30 p.m.; Saturday & Sunday (8/30-31) noon-10:30 p.m.; Monday, Labor Day (9/1) noon-7:30 pm; Tuesday (9/2) 6:00 pm -10:30 pm.
Show Info: http://www.homeshows.net . Like us on http://www.facebook.com/FloridaHomeShow and follow us on Twitter @FLHomeShows.