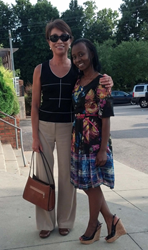 This program offers the women an opportunity to overcome challenges, embrace their full potential and realize that they are not alone on their journey
Raleigh, NC (PRWEB) July 28, 2014
Dr. Diane Chen, the CEO of Consumer Education Services Inc.(CESI), along with other Raleigh area Women Business Leaders Monica Smiley, Publisher/CEO of Cary, NC-based Enterprising Women Magazine, and Sharon Gale, the Principal of Unique Batik served as mentor and host to Rwandan Entrepreneur Monica Umwari during her U.S. visit July 21st- 26th.
The mentorship program that welcomes Ms. Umwari to Raleigh is part of the PEACE THROUGH BUSINESS® program facilitated by Oklahoma City based non-profit,Institute for Economic Empowerment of Women (IEEW). Each year, the PEACE THROUGH BUSINESS program brings together women entrepreneurs from Afghanistan and Rwanda with Women Business Leaders in the United States for global mentorship and business training.
Ms. Umwari is the co-owner of a custom textile business in Kigali, Rwanda that creates tote bags, purses, wallets and other accessories from upcycled materials. Throughout her visit, she visited Triangle-based businesses to enhance her business skills as part of her mentorship and training. "I have learned so many things that will enhance my business in Rwanda" said Ms. Umwari "This has been an experience I will never forget."
Says Dr. Terry Neese, founder and CEO of the IEEW, "The women of Afghanistan and Rwanda have endured struggles of war and oppression throughout their lives, This program offers the women an opportunity to overcome challenges, embrace their full potential and realize that they are not alone on their journey."
Dr. Chen is the CEO of non-profit CESI, which she founded in 1998 to assist consumers struggling with consumer debt. Under her leadership, CESI has become licensed in all 50 states, grown in size to over 100 employees, and generated revenues of $35 million annually. CESI is one of the largest credit counseling agencies in the nation having helped hundreds of thousands of clients nation-wide with their debt. Recently, CESI expanded their services to include a service to assist those struggling to pay their student loans as well as Beneficiary Services for those in need of assistance with facilitating their monthly bill payment and budgeting. In her role as CEO, she has previously volunteered as a mentor with IEEW and co-hosted an Afghan woman entrepreneur in 2013
"Much of my success is credited to mentors who have assisted me along the way," said Chen. In her native China, it was through her role as interpreter that she was introduced to the President of North Carolina State University. He was impressed by her skills and work ethic and arranged for her to come to North Carolina State University in Raleigh as part of a visiting scholar program. Eventually, she relocated her family to Raleigh where she continued her education and earned both her Master and Doctorate degrees in adult education from North Carolina State University in 1993 and 1995 respectively.
"I fully appreciate the challenges that women face in starting businesses and competing in today's world economic landscape," said Dr. Chen. "As a woman entrepreneur from China, which was a developing nation at the time, I am grateful for the mentors who helped me on my journey. It is my honor to be able to participate and help mentor women as well as give back just a small portion of all that I have received,"
About CESI
CESI is a not-for-profit organization that helps consumers achieve financial freedom by offering a complete life cycle of services: debt management, housing counseling, credit counseling, financial education and pre-bankruptcy counseling. For more information, please visit CesiSolutions.org or call 1-855-716-2451.
About IEEW
Established in 2006, the Institute for Economic Empowerment of Women, based in Oklahoma City, is a 501(c) 3 nonprofit organization that encourages the empowerment of women economically, socially, and politically by focusing on their education and mentorship. The IEEW strives to help women in the United States and abroad who want to gain entrepreneurial skills that will help them start and grow a business, which will in turn help them to become more active and effective public policy advocates. Working on the forefront of these efforts, the IEEW believes in the power of women as a driving force in the development and stability of businesses in emerging economies. Through its dedication, hard work and PEACE THROUGH BUSINESS® program, the IEEW helps provide women with a voice in their fight to establish peace and free market economies. For more information, visit ieew.org