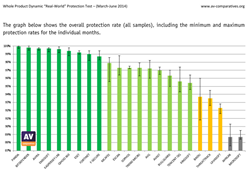 "The best thing is that the platform and engine with which we're achieving these results are the basis of all our endpoint protection products."
Madrid (PRWEB) July 28, 2014
Panda Cloud Antivirus Free, the free cloud antivirus from Panda Security, offers the highest levels of protection according to the two leading industry product tests, those of AV-Comparatives and AV-TEST.
AV-Comparatives confirms a 99.9% detection ratio
During the more than 150,000 'real world' proactive detection tests carried out from March to June this year by the AV-Comparatives independent laboratory, Panda Security's free anti-malware solution managed to detect and block 99.9% of threats.
This comparative test of over 20 antivirus solutions highlights the great protection capacity of Panda Security's solution, beating out other free products such as Avast, AVG or Microsoft's antivirus; or pay solutions including Kaspersky, McAfee and Sophos.
For more details of the AV Comparatives test, click here.
100% detection ratio, according to AV-TEST
Similarly, in the 'Real-World Protection' test carried out by AV-TEST in May and June, Panda Cloud Antivirus also racked up the maximum score, with a 100% detection ratio for the second consecutive month. Out of 23 products tested by the laboratory, only three achieved the maximum detection rate, and one of these was Panda Cloud Antivirus, from Panda Security.
In addition to these excellent detection results, it's important to note that Panda Security has scored maximum points in the AV-TEST 'Monthly Consumer Product Testing' performance test in June.
For more details of the AV-TEST product tests, click here
New XMT Smart Engineering engine
The results from both these labs are based on tests carried out on products based on the new XMT (Extreme Malware Terminator) Smart Engineering engine from Panda Security. With XMT, different technologies interact with each other to achieve new levels of efficiency and greater detection and disinfection power to eradicate all threats. The new XMT engine will be included in the new 2015 consumer product line that Panda Security will be presenting in August.
"The best thing is that the platform and engine with which we're achieving these results are the basis of all our endpoint protection products. Our aim is to continue integrating technologies in the platform to stay in pole position when it comes to detection and provide our users with maximum protection and minimum impact on their systems", says Luis Corrons, Technical Director of PandaLabs at Panda Security.
Panda Cloud Antivirus 3.0
Panda Security presented Panda Cloud Antivirus version 3.0 last May, after a trial phase during which the product was downloaded more than 30,000 times across 130 countries. The new solution includes, in both the 'Free' and 'Pro' editions a new more modern and intuitive 'look and feel'. The solution also delivers improved protection technologies against new threats and attacks that exploit software vulnerabilities and automatically vaccinates USB drives, a feature which is now available to all users of the product, and not just the Pro version, as in the past.
It also includes the highly useful Rescue Kit for dealing with emergencies caused by malware, as well as a more complete process monitor.
About Panda Security
Founded in 1990, Panda Security is the world's leading provider of cloud-based security solutions, with products available in more than 14languages and millions of users located in 195 countries around the world. Panda Security was the first IT security company to harness the power of cloud computing with its Collective Intelligence technology. This innovative security model can automatically analyze and classify thousands of new malware samples every day, guaranteeing corporate customers and home users the most effective protection against Internet threats with minimum impact on system performance. Panda Security has 80 offices throughout the globe with US headquarters in Florida and European headquarters in Spain.
Panda Security collaborates with The Stella Project, a program aimed at promoting the incorporation into the community and workplace of people with Down syndrome and other intellectual disabilities, as part of its Corporate Social Responsibility policy.
For more information, please visit http://www.pandasecurity.com/