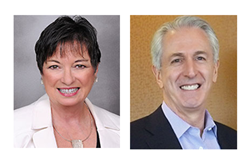 "We are pleased to welcome Dr. Crane and Mr. Madocks to the KDS Board of Directors. Their extraordinary careers in education and business and their breadth of experience...make them an invaluable asset in accelerating KDS' growth." — Tom Mendell
New York, NY (PRWEB) July 29, 2014
Knowledge Delivery Systems(KDS), the leading provider of strategic professional development for school districts, welcomes two new board members to its expanded board: Dr. Therese "Terry" Crane, President of Crane Associates, and Brian Madocks, CEO and President of Revitas, Inc.
With more than 35 years of experience as an educator, business executive, and technology expert, Dr. Crane has been widely recognized as one of the nation's most innovative leaders in educational technology.
Brian Madocks brings more than 20 years of experience in the technology and business services industry, with both early-stage and large companies.
"We are pleased to welcome Dr. Crane and Mr. Madocks to the KDS Board of Directors. Their extraordinary careers in education and business and their breadth of experience as board members make them an invaluable asset in accelerating KDS' growth—particularly with the recent launch of KDS' Professional Learning Platform," stated Tom Mendell, Chairman of the KDS Board.
"I'm honored to join the KDS Board of Directors and to be a part of a growing organization that is changing the face of professional development for districts nationwide," Dr. Crane stated.
Dr. Crane also serves on the boards of National American University, the Western Governor's University, and the Curriki Foundation, and is a NEA Foundation Scholar. She was chairman of the National School Boards Foundation and a nine-year trustee of the National Education Association Foundation Board. She has served as a senior executive at Apple, Josten's Learning, and AOL. A native of Texas, Dr. Crane has a doctoral degree in Educational Leadership and a master's in Early Childhood Education from the University of North Texas.
Regarding his appointment to the KDS Board, Brian Madocks stated, "I've been watching KDS' incredible growth over the last few years and am impressed by their impact in the education market. I look forward to working with the KDS team."
Mr. Madocks plays a vital role at Revitas in leading and directing the strategy, growth, and operations of the solutions-based company. Prior to Revitas, he was CEO and President of Vitalyst, the leading provider of on-demand support to business end-users. He has also served as Chief Executive Officer of SunGard Higher Education, the largest provider of enterprise technology and services to colleges and universities, where he led the company's global expansion and doubled the size of the business. In addition to KDS, Brian serves on the Board of Directors at Revitas, Inc., and has previously served on the boards of both Long Island University and Philadelphia Outward Bound Center. He earned a B.S. in Finance & Economics from C.W. Post University and completed the Insead Executive MBA Program sponsored by SAP.
With the addition of Dr. Crane and Mr. Madocks, KDS' Board of Directors now includes six members, including Tom Mendell; Alvin Crawford, CEO of KDS; Sever Totia, Partner at Edison Partners; and Elliot Sainer, Founder and Former CEO of Aspen Education Group.
About Knowledge Delivery Systems:
Knowledge Delivery Systems (KDS) is the leading provider of research-based, blended-model strategic professional development solutions for districts, schools, and teachers. KDS' mission is to help school districts and states transform professional development to dramatically improve teacher effectiveness and raise student achievement. KDS solutions systematically build district-wide capacity to address their most important challenges—closing the achievement gap, Common Core instruction and assessments, cultural competency, diverse learners and differentiation, coaching and instructional leadership, and 1-to-1 classrooms. KDS online courses are developed by the nation's leading education experts and researchers, and are delivered on the KDS Professional Learning Platform (PLP). For more information please visit: http://www.kdsi.org