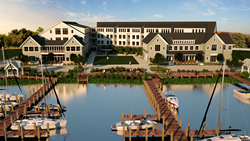 St Paul, MN (PRWEB) July 28, 2014
A new White Bear property is aiming to merge metro and lake home lifestyles into one. The Boatworks Commons, an 85-unit rental apartment building, is opening in spring 2015 and construction is now well underway.
The Boatworks Commons is a collaboration between At Home Apartments, Lander Group, the City of White Bear Lake and others. The mixed-use property features one- and two-bedroom/bath apartments, restaurant, fitness center, public community room and parking, and community park. Residence amenities include private underground parking, open floor plans, natural lighting, large windows and beautiful interior finishes.
Potential residents have a choice between two unique lifestyle opportunities: The Flagship Collection and The Mainsail Residences. The Flagship Collection includes five high-end two-level apartment homes overlooking White Bear Lake. The Mainsail Residences offers a variety of spacious floor plans and finishes, with lake views and city views.
The Boatworks Commons is breathing new life into an historically-significant section of the lake. The developer partnership aims to unite the lake, community and residents with this project. Residents will experience the best in luxury lakeside living and connect with neighbors and the community in a new way.
On August 22 and 23, The Boatworks Commons is hosting two pre-lease events. The Flagship Collection lease showing is on Aug. 22, and the Mainsail Residences open house is on Aug. 23. Registration is required. For more information or to make a reservation, visit http://www.boatworkscommons.com/leasing-information/.
About At Home Apartments
At Home Apartments manages properties with a focused passion. They combine high-character homes with today's amenities and quality on-site service to create a great resident experience. Currently, At Home Apartments owns and manages over 4,800 apartment units located in the Twin Cities, St. Cloud, and Kansas City, Kansas.
About Lander Group
Lander Group's landmark developments are located throughout the Twin Cities - Midtown Lofts, West River Commons, Parkway West and EastRiver, to name a few. Lander Group has been recognized with over 20 industry awards, including multiple Builder Magazine Builder's Choice Awards, NAHB Multifamily Developer of the Year, and Professional Builder Magazine Best in American Living Awards.