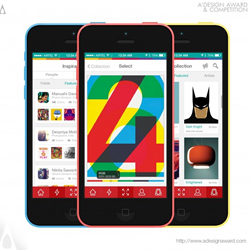 Como, Italy (PRWEB) July 29, 2014
A' Design Award and Competition is pleased to announce that the smartphone application "Motley" by Varshaa Gupta and Amit Nanda has won a Platinum A' Design Award in Mobile Technologies, Applications and Software Design Competition.
About Motley
Amit & Varshaa, the creative design team behind the award winning design Motley said, "Motley is a quick color reference interactive application which allows the user to capture color palettes on the go. It generates color values in various formats like RGB, HEX and CMYK on one tap. It is a global platform to interact, create and share colors, palettes and trends. Motley enables the unique feature of exporting colour palettes to your system at one touch. It has an infinite collection of artworks and compositions contributed by various designers. The application symbolises colour as visuals which enhances the experience of the user." Learn more about this design at: http://www.adesignaward.com/design.php?ID=33593.
Design Team for Motley
Motley was designed by Varshaa Gupta and Amit Nanda.
The Platinum A' Design Award
The Platinum A' Design Award is given to top one-percentile entries that receive the highest scores from the awards jury after rigorous peer review and anonymous voting. The 50-person A' Design Award jury members are internationally influential media members, design experts as well as scholars. Laureates of the A' Design Awards are eligible to receive the A' Design Prize which consists of a series of PR and publicity services such as inclusion in designer rankings, exhibition of award winning works at MOOD design museum, an interview with the designer as well as press release preparation and distribution to celebrate the status of winning the accolades. Award winning designers are also invited to join the black-tie gala-night and award ceremony in Italy to receive their winners' kits which includes the 3D printed award trophy, best designs yearbook and the design excellence certificate.
About A' Design Award and Competition
A' Design Award and Competition aims to highlight the best designs, design concepts and design oriented products worldwide in order to create a global awareness for good design practices and principles. A' Design Award and Competitions are organized and awarded annually and internationally in wide array of categories in order to bring different stakeholders in the design and manufacturing industry together. Learn more about A' Design Awards at: http://www.whatisadesignaward.com.